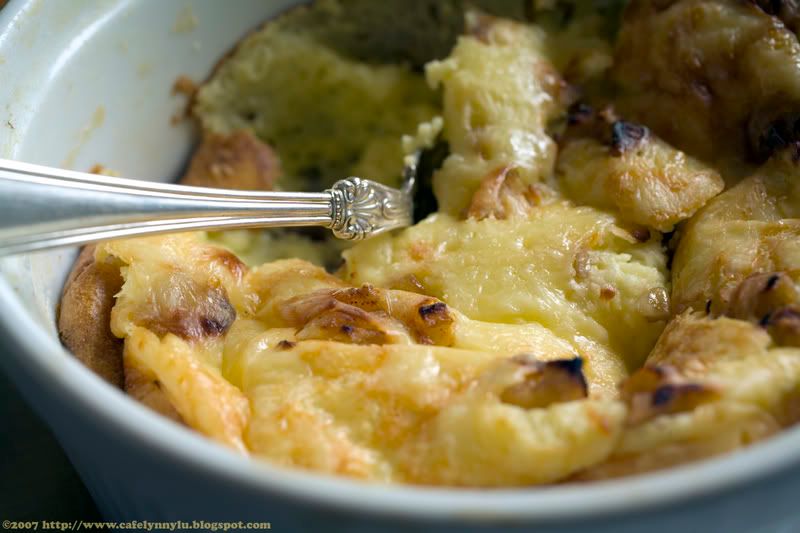 Make a souffle for Hay Hay It's Donna Day #9 hosted by Tami winner of #8!!! Reminds me of the Queen song Under Pressure. I can count the souffles I've made on one hand,so hopefully, my baked apple and aged cheddar souffle will be under enough pressure to rise successfully. The apple walnut sauce that accompanies the souffle has tons of flavors going on-balsamic vinegar and fresh thyme leaves gives the sauce a provocative touch and the aged white Cheddar from Ireland gives the souffle a rustic touch.
Photographing the souffle before it deflates brings in some more pressure. It is critical to have your props ready and some test shots done of the scene for lighting purposes. Still with all that preparation, you have a finite amount of time to get the shot before the souffle collapses. Despite its eventual collapse, this apple and aged cheddar cheese souffle tastes amazing!
Apple and Aged Cheddar Cheese Souffle with Apple Walnut Sauce
Adapted From Workin' More Kitchen Sessions with Charlie Trotter, Ten Speed Press
Ingredients
Apple Walnut Sauce
1 Granny Smith apple, peeled, cored and cut into small dice
2 tablespoons unsalted butter
1/4 cup sugar
1 teaspoon fresh lemon thyme leaves
1/4 cup chopped walnuts
2 teaspoons balsamic vinegar
To Prepare Sauce
Saute apple with the sugar and butter over medium heat until caramelized , about 5 minutes. Stir in the thyme, walnuts and vinegar. Reheat if necessary when ready serve with the souffle.
Souffles
1 cup small diced Granny Smith apple
2 teaspoons light brown sugar
1/4 teaspoon ground cinnamon
4 large eggs, separated
4 tablespoons plus 2 teaspoons unsalted butter
1 1/2 cups milk
2/3 cup flour
6 ounces aged Cheddar cheese, grated
Preheat oven to 400 degrees F.
Toss apples with the brown sugar and cinnamon and cook over medium heat until the sugar has dissolved and the apples are tender, about 5 minutes. Set aside to cool.
Butter and flour a 48 ounce souffle dish. In bowl of an electric mixer, using whisk attachment, whip the egg whites until stiff peaks form, 3 to 4 minutes. Bring the butter and milk to a boil in a saucepan, stir in flour and bring to a second boil. Remove from heat and stir in egg yolks. Fold the egg whites into the flour mixture in three additions. Fold in 3/4 of the grated cheese. Place apple mixture in the bottom of the souffle dish and fill with the souffle mixture. Sprinkle the remaining grated Cheddar cheese over the top of the souffle. Place the souffle dish in a roasting pan and add boiling water to the pan to come halfway up the side of the dish. Bake for 35 minutes.
Serve with the apple walnut sauce. Serves 4.