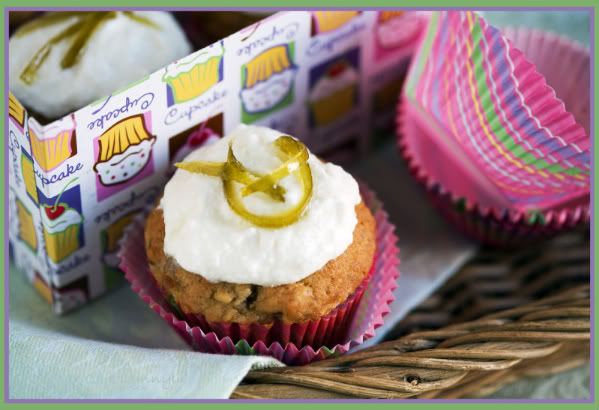 Dorie Greenspan's, Lots of Ways Banana Cake is just that! You can substitute, omit or add ingredients and still come out with a fabulous cake. Bananas are an integral part of this cake that can be made into a layer cake and frosted or made into cupcakes as I have done. Other variations include dried fruits along with the coconut, one layer of the cake can be used to make a banana sundae. Rum-drenched vanilla syrup, marshmallow frosting, chocolate whipped cream frosting or a chocolate ganache; all these are avenues of variety. Thanks to Kimberly of onlycreativeopportunities for her pick this Tuesday. Next week, Nicole of cookiesonfriday brings us Chewy, Chunky Blondies.
These banana coconut cupcakes are flavored with fresh nutmeg, a homemade rum vanilla syrup, frosted with a tangy lime frosting, then garnished with homemade candied lime peel. The frosting and candied lime peel recipe comes from "Ready For Dessert"by David Lebovitz, a fabulous dessert cookbook.
Lime Frosting
4 tablespoons unsalted butter
1-1/2 cups confectioners' sugar, sifted
2 tablespoons fresh lime juice, or more
1 tablespoon milk, (Lebovitz uses whole milk)
Using a mixer on high speed, cream butter until smooth. On low speed, add half the powdered sugar. Scrape down bowl as necessary. Add the lime juice, then the rest of the powdered sugar. When sugar is incorporated, add the milk. Beat on high speed until smooth and fluffy, about 3 minutes. Pipe or spoon decoratively on top of cupcakes. Makes about 3/4 cup frosting.
Soft-Candied Lime Peel
5 limes, washed
2 cups water
1 cup sugar
1 tablespoon light corn syrup, optional (this inhibits crystallization)
Using a sharp vegetable peeler, remove just the zest from the limes in 1-inch wide strips, taking care not to include the white pith. If so, you can remove it with a sharp knife. I used the end of four hole zester to scrape out the white pith. Cut the strips of zest lengthwise into matchstick pieces.
Put the peel in a medium saucepan and add water to cover . Bring to a boil and cook until peel is softened and translucent, 5-6 minutes. Mine took longer than that. Drain the peel and discard the water. In the same saucepan, combine 2 cups water, sugar and corn syrup, stirring to dissolve the sugar. Add the drained lime peel, reduce the heat to a soft boil and cook until peel in translucent and syrup is thick, about 20 minutes-mine took longer, around 30-40 minutes. I used a candy thermometer. The mixture should register 210°F. When done, let cool, then transfer peel and syrup to a covered jar and refrigerate.
The peel will keep refrigerated about 2 months. If you didn't use the corn syrup, it may crystallize. If so, warm the peel slowly, adding water as necessary, to untangle the peel.