Burnt Sugar–. (Chem.) Burnt sugar; a brown or black porous substance obtained by heating sugar. It is soluble in water, and is used for coloring spirits, gravies, etc. [1913 Webster]

Doesn't sound very tasty, does it? Apparently in 1913, no one had used this chemical happening to make ice cream or the definition would have a ton of "oohs and ahhs" and omg's throughout its wording. Burnt sugar ice cream is about the best ice cream there is! It needs no adornment, but I'm in a tropical mood, so grilled pineapple and rum sauce was on my mind. To add crunch, toasted unsweetened coconut garnishes this lush equatorial dessert.


To make the burnt sugar caramel, you need take the phone off the hook, put the dog in his cage, and take the cat out. If you have young children, make sure someone else is watching them. In other words, no distractions! Use caution as the hot sugar mixture is like molten lave. Making caramel isn't hard, but it takes some time and patience. One tip I've learned the hard way over the years is that just when you think the caramel is just to the amber stage, but not dark enough, I remove the pot from the heat and continue to swirl the mixture which then turns more or less the shade amber I desire. Take care when making the caramel as it can go from amber to burnt in seconds. Becky from Project Domestication has the complete recipe for the burnt sugar ice cream. A great pick as our weather in Georgia has become sultry and sweltering-hence the tropical theme.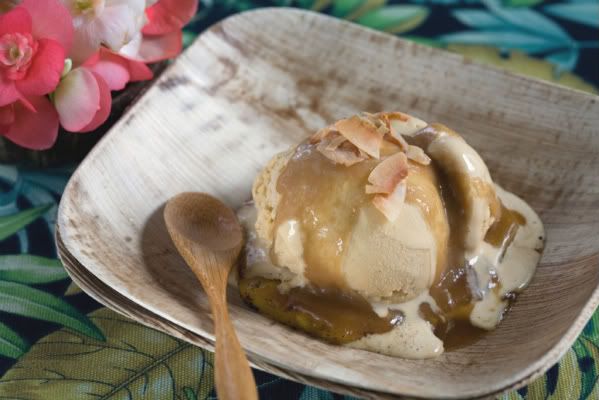 I used my CuisinartDuo to make the ice cream. Usually, I would use the WhiteMountain old fashioned manual ice cream maker, but this recipe only makes about 1-1/2 pints whereas the White Mountain has a 4-quart capacity-perfect for a crowd!
For the Grilled Pineapple
1 large ripe pineapple, peeled, cored and cut into slices. To determine if your pineapple is ripe, try plucking one of the leaves from the top of the fruit-they should come away easily.
1-2 tablespoons butter
In a grill pan on top of the stove, melt butter over medium heat. When hot, grill pineapple slices 3-4 minutes a side, rotating to achieve the cross-hatch effect. Remove from pan. Serve warm or at room temperature.
For the Rum Sauce
3 tablespoons butter
1 tablespoon pineapple or orange juice
1/4 cup light brown sugar
1 tablespoon dark rum
Melt butter over med-low heat. Add juice and light brown sugar. Stir constantly and cook 3-4 minutes. Remove from heat;add rum. Keep warm or reheat before serving.
For the Toasted Coconut
Preheat oven to 350°F. Sprinkle 1/3 cup unsweetened coconut on rimmed baking sheet. Bake until coconut is lightly browned, about 3-5 minutes.
To Assemble the Burnt Sugar Ice Cream Dessert
Place one slice grilled pineapple on dessert plate; top with a large scoop of burnt sugar ice cream. Drizzle rum sauce over the ice cream and garnish with toasted coconut.
To view more variations of the burnt sugar ice cream, visit the TuesdayswithDorie website. Recipe here.