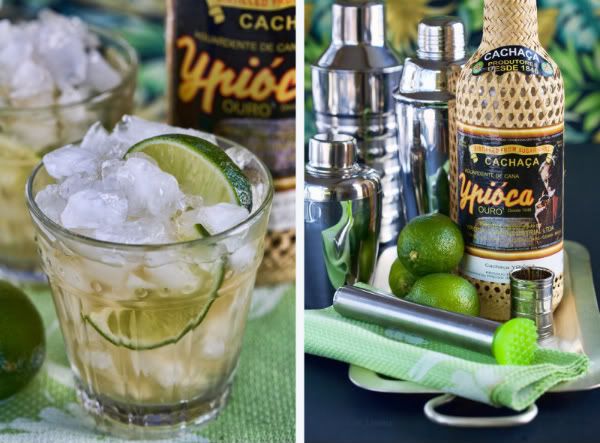 Caipirinha, (kie-puh-REEN-ya)is a traditional Brazilian cocktail made with cachaça (ka-sha-sa), a white rum distilled from sugarcane. Although the exact date of it's introduction to Brazil is unknown, cachaça was in production soon after sugarcane was being grown in on plantations. It is likely that the spirit was produced by accident when the sugar mill workers realized that when the sugar cane juice was left out for a certain amount of time, it would ferment and become alcoholic. Plantation owners were thought to dole out cachaça to their workers thinking the drink would increase their vigor and encourage them to work harder in the sugar cane fields. No doubt, it made them happy. For hundreds of years, cachaça was thought to be a poor man's drink by the Brazilian upper class. Today it is a Brazilian national icon, ranking high among other cultural symbols- the Samba, soccer and Carnaval.
Not a pure "rum" which is made from distilling molasses, cachaça is known by many names, including pinga, the most common-cana, garapa doida and parati. Similar to tequila, aged Cachaça ranges in colors from gold to amber. Caipirinhas are more often made with un-aged cachaça. This once plebian rum now is the darling of the cocktails bars and a caipirinha will cost around $15 in some high end establishments. However, the drink is quite simple with only a few ingredients-cachaça, fresh limes, sugar and crushed ice. In Brazil, key limes are considered the best limes for a true caipirinha. Readily available brands of cachaça in the US are Pitu, 51, and Ypioca brands, retailing for around $20 dollars.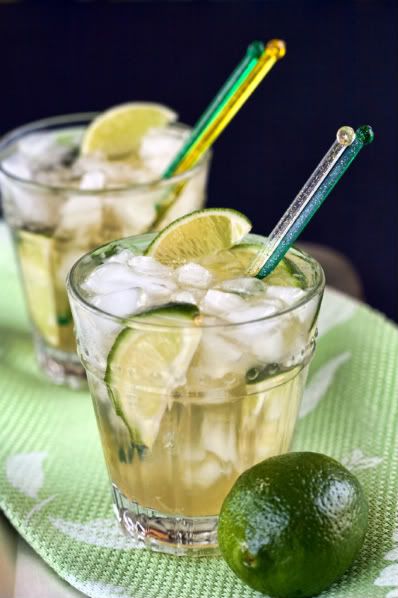 If you don't have cachaça, you can substitute vodka which then is called a caipirioska or light rum, now a caipirissima. Never use a simple syrup,beet sugar,or brown sugar, always a white cane sugar. A strong thick glass is best for muddling (mixing the limes with the sugar). Don't have a muddler, muddle as the Brazilian's do- mix the limes and sugar in a mortar and pestle first, then transfer to a glass of choice. Dance the Samba and serve appetizer size empanadas to accompany the caipirinha.
Caipirinha


1 lime, quartered or 2-3 key limes cut into 1/8-inch slices
1 tablespoon superfine sugar
2 ounces cachaça
4 large ice cubes, crushed
Place the lime quarters in a strong highball or old fashioned glass. Add the sugar and mash together. Pour in the cachaça, mix together, then and add crushed ice. Serves 1.
Check out other Thirsty Thursday libations from the diva on a diet at who blogs at Beach Eats. Also, a delightful blue haze cocktail from vibi at LaCasseroleCarree.
Want to be part of Thirsty Thursday-leave a comment at the end of this post?