Our hostesses this month, Evelyne of Cheap Ethic Eatz and Valerie of The Chocolate Bunny, chose delicious pate with freshly baked bread as their June Daring cooks challenge. They've provided us with 4 different pate recipes to choose from and allowing us to go wild with our homemade bread choice.
Thanks to Evelyne and Valerie who did a magnificent job for this month's challenge. While I love meat and liver pates, my herb garden is overflowing with basil, so the Tricolor Vegetable Pate was a clear choice. French bread is my favorite bread to bake. I've prepared the dough traditionally in the past, but use my bread machine nearly all the time now. When the dough is finished in the machine, I hold back about 1 cup of the dough to use in my next batch of bread and so on. With this technique, the baked bread has a longer shelf life. Just refrigerate the reserved dough to use within a week. Spritzing the risen dough heavily before baking and leaving the dough to cool with oven off and the door slightly ajar helps attain that crispy crust so loved in French bread.
The Tricolor Vegetable Pate is very soft even after an overnight stay in the refrigerator, so Evelyne and Valerie suggest freezing for 30 minutes prior to unmolding. Mine is shown with the pesto layer on top rather than the white bean layer. When spread on a hunk of French bread, all the flavors of the roasted peppers, pesto and white bean collide with a lovely combination of Mediterranean flavors.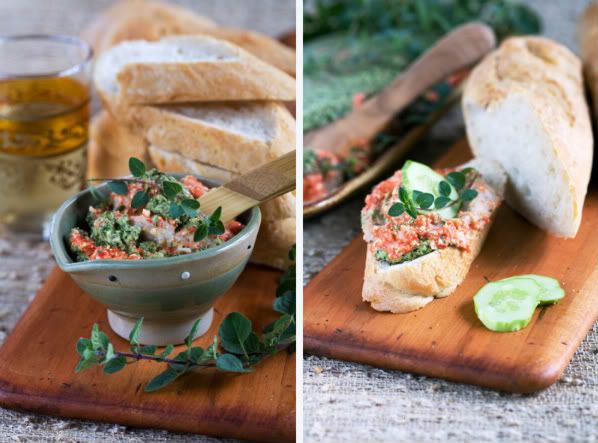 Tricolor Vegetable Pâté
Yields one 25 by 12,5 cm (10 by 5 inch) terrine or loaf pan
Line your pan with plastic wrap, overlapping sides.

White Bean Layer
2 x 15-ounce / 900 ml cans cannellini (white kidney beans), rinsed, drained thoroughly
1 tbsp / 15 ml fresh lemon juice
1 tbsp / 15 ml olive oil
1 tbsp / 15 ml minced fresh oregano or 1 teaspoon dried
2 garlic cloves, pressed
Mash beans in large bowl. Add lemon juice, olive oil, oregano and garlic and blend until smooth. Season to taste with salt and pepper. Spread bean mixture evenly on bottom of prepared pan.
Red Pepper Layer
7-ounce / 210 ml jar roasted red bell peppers, drained, chopped
3/4 cup / 180 ml crumbled feta cheese (about 4 ounces)
Combine peppers and feta in processor and blend until smooth. Spread pepper mixture evenly over bean layer in prepared dish.
Pesto Layer
2 garlic cloves
1 cup / 240 ml fresh basil leaves
1 cup / 240 ml fresh Italian parsley leaves
1/4 cup / 60 ml toasted pine nuts-(I used almonds)
3 tbsp / 45 ml olive oil
1/2 cup / 120 ml low-fat ricotta cheese
Mince garlic in processor. Add basil, parsley and pine nuts and mince. With machine running, gradually add oil through feed tube and process until smooth. Mix in ricotta. Spread pesto evenly over red pepper layer.
Cover with plastic wrap and refrigerate overnight.
Freeze 30 minutes before unmolding.To unmold, invert pâté onto serving platter. Peel off plastic wrap from pâté. Garnish with herb sprigs and serve with sourdough bread slices. Recipe from Epicurious
French Baguette
yield: Three 16″ baguettes
French Bread recipe from King Arthur.

Starter
1/2 cup / 120 ml cool water
1/16 teaspoon active dry yeast
1 cup / 240 ml flour
Dough
1 tsp / 5 ml active dry yeast
1 cup to 1 1/4 cups / 240 ml to 300 ml lukewarm water*
all of the starter
3 1/2 cups / 840 ml flour
1 1/2 tsp / 7 ml salt
*Use the lesser amount in summer (or in a humid environment), the greater amount in winter (or in a dry climate), and somewhere in between the rest of the year, or if your house is climate controlled.
Make the starter by mixing the yeast with the water, then mixing in the flour to make a soft dough. Cover and let rest at room temperature for about 14 hours; overnight works well. The starter should have risen and become bubbly.
Mix active dry yeast with the water and then combine with the starter, flour, and salt. Mix and knead everything together—by hand, mixer or bread machine set on the dough cycle—till you've made a soft, somewhat smooth dough; it should be cohesive, but the surface may still be a bit rough. Knead for about 5 minutes on speed 2 of a stand mixer.
Place the dough in a lightly greased medium-size bowl, cover the bowl, and let the dough rise for 3 hours, gently deflating it and turning it over after 1 hour, and then again after 2 hours.
Turn the dough out onto a lightly greased work surface. Divide it into three equal pieces. Shape each piece into a rough, slightly flattened oval, cover with greased plastic wrap, and let them rest for 15 minutes.
Working with one piece of dough at a time, fold the dough in half lengthwise, and seal the edges with the heel of your hand. Flatten it slightly, and fold and seal again. With the seam-side down, cup your fingers and gently roll the dough into a 15″ log. Place the logs seam-side down onto a lightly greased or parchment-lined sheet pan or pans.
Cover them with a cover or lightly greased plastic wrap, and allow the loaves to rise till they've become very puffy, about 1 1/2 hours. Towards the end of the rising time, preheat your oven to 450ºF (240ºC).
Using a very sharp knife held at about a 45° angle, make three 8″ vertical slashes in each baguette. Spritz the baguettes heavily with warm water; this will help them develop a crackly-crisp crust.
Bake the baguettes until they're a very deep golden brown, 25 to 30 minutes. Remove them from the oven and cool on a rack. Or, for the very crispiest baguettes, turn off the oven, crack it open about 2″, and allow the baguettes to cool in the oven.