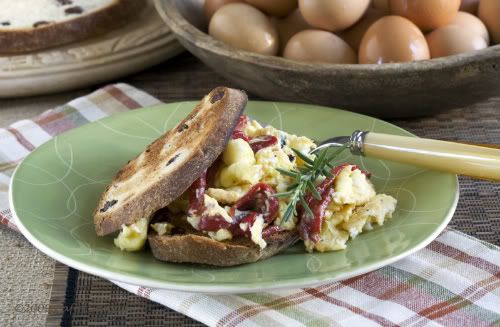 This rustic Italian dish, a mixture of creamy scrambled eggs with sauteed roasted red peppers and garlic is perfect for breakfast, a light lunch or an easy Sunday night supper. Roast your own peppers or use a good brand of fire roasted red peppers. For sandwiches, broil or grill slices of crusty Italian or Rosemary Raisin Bread. Serves 2-3, but the recipe is easily doubled. Adapted from "Italy in Small Bites" by Carol Field.Ingredients
2 red bell peppers, roasted, or 2 jarred roasted red peppers, drained, patted dry and cut into thin strips
2 tablespoons extra-virgin olive oil
2 cloves garlic, minced
4 large eggs
Sea salt
2 tablespoons minced Italian parsley, optional
4-6 slices country-style Italian bread, or rosemary raisin bread
Heat oil in a heavy skillet. Saute the peppers and garlic over medium-low heat until soft, but not mushy. In a separate bowl, whisk together the eggs and salt.
Add the eggs to the pan and scramble them until they are creamy and set.
For the sandwiches, grill or broil the bread. Arrange the scrambled egg mixture between the slices allowing the flavors to imbue the crusty bread.