Sant'Eustchaio Caffe was just minutes walking distance from our apartment near the Piazza di Campo Dei Fiori in Rome, touted as having one of the best espressos in Rome. But I wasn't there for the dark steaming brew topped with its enigmatic thick crema floating atop the perfectly brewed espresso. For months, I had been thinking not only of the wonderful dining experiences that I would have in Rome, the plethora of ancient ruins and world famous museums, but of my favorite warm weather treat coffee-espresso granita con panna. I wasn't disappointed-the espresso granita at Sant'Eustachio Caffe was out of this world. Dark shaved coffee ice topped with fresh whipped cream-a perfect mid-morning pick me up preparing me for my busy day of sightseeing. I was so excited, I forgot to take photos of the cafe or the icy concoction! Back home, although I knew there was no way I could recreate the atmosphere of being in Rome having an espresso granita con panna, I was going to give it my best shot of espresso!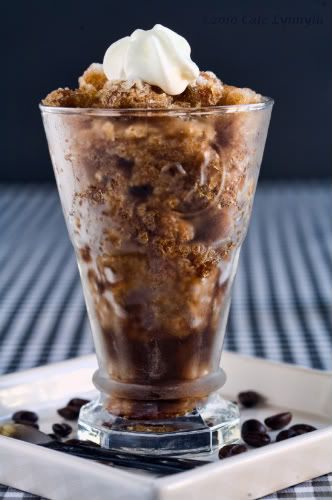 For this recipe, if you don't have an espresso machine, you can make your coffee extra strong in a conventional coffee maker, or use a cafetiére,sometimes called a French press which actually works very well.
Espresso Granita Con Panna
7 fluid ounces very strong coffee (about 5 generous cups of espresso or cafetiére brewed coffee using 14 tablespoons coffee per 1-3/4 pints water)
14 ounces water
5 ounces sugar
1/2 teaspoon vanilla
1 egg white, whipped until frothy (optional) I made two batches-one with the egg white and one without and I didn't discern any difference between the two.
4 ounces whipped cream(you can also use whipped cream in the can-easier and pretty, too
Pour the brewed coffee in a large bowl and set aside. Boil one-half of the 14 ounces of water with the sugar, stirring to dissolve. Refrigerate until cold. When cold, add it, the remaining 7 ounces of water and the vanilla to the brewed coffee. Stir well. If using the egg white, fold it into the mixture. Pour in a shallow freezer-proof pan, and freeze. About every 30 minutes, break the mixture up with a fork, to create the shaved appearance traditional to iced espresso. When it is well frozen, serve in cups and top with whipped cream. Serves 4.