Five Quarters of the Orange***** by Joanne Harris
For FoodforThought event created by Jain of Once in a Blue Moon.
Mirabelle Dartigen asks "Has any of you brought oranges into the house?" Oranges play a menacing role in Five Quarters of the Orange, a novel by the author of the renowned novel, "Chocolat". Framboise Simon, an elderly widow, returns to the village of her childhood to buy back the dilapidated farm armed with only her inheritance-her mother Mirabelle's album of recipes (sometimes poetic), newspaper clippings, cryptic references in a family invented "pig Latin" style of language and a two-liter jar containing a single black Périgord truffle preserved in sunflower oil. She is not recognized as the daughter of the "infamous" woman held responsible for a tragedy during the German occupation of France many years before.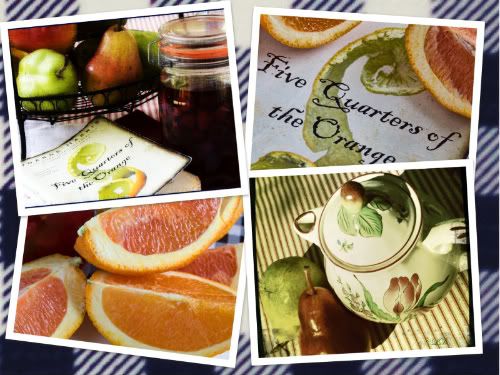 As the narrator, Framboise takes us back through flashbacks of the time when she was nine years old and infatuated with a German soldier. Along with her brother Cassis, and sister, Reinette-Claude, she trades knowledge about the neighboring villagers, nothing of military significance, just small things-what they own or produce- in return for sweets, magazines or forbidden cigarettes. To spend more time with the German soldier, Framboise secretly hides orange peels around the house knowing that it causes her mother to have severe migraines who then takes to her bed for days comforted by morphine pills. Things begin to get out of control with their antics and a tragedy happens—–. Five Quarters of the Orange is a superbly executed tale of wartime in occupied France, the cruelty and simplicity of children, dysfunctional families, revenge and love. Sometimes dark, but will hold your attention until the end.
Five Quarters of the Orange is full of food vignettes-sweet pancakes with raspberry coulis served with Framboise's homemade raspberry liqueur, fig jams, herb and apple sausages, fish stews and many, many more. The raspberry liqueur seemed appropriate-Framboise, also the name of the main character. Recipe from Food and Wine- Creme de Framboise

Creme de Framboise
1-1/2 pounds fresh or frozen raspberries
3 cups dry red wine
3 cups sugar
1 cup brandy
In a large bowl, mash the raspberries with a fork. Stir in the wine. Cover and set aside at room temperature for 2 days.
Pass the berries through a fine strainer into a medium saucepan, pressing to extract as much liquid as possible. Add the sugar and simmer over moderate heat until thick and syrupy, about 15 minutes. Pour the syrup into a heatproof bowl and cool to room temperature. Stir in the brandy. Pour the liqueur into clean jars or bottles and refrigerate for up to 2 months.