A little history first on the Green Island Fragrance cocktail—
An island nation, Mauritius lies off the coast of Africa in the Southwest Indian Ocean about 550 east of Madagascar. Entirely formed by volcanos that are no longer active, the island is surrounded by coral reefs and the pristine waters are a mecca for scuba diving, snorkeling and other water sports. Uninhabited until the 17th century, the Dutch were the first permanent settlers, although the island had been visited by sailors passing through as early as the 10th century. Mauritius was named for Prince Maurice of the Bahamas, the head of State in the Netherlands. After years of being ruled by the Dutch, French and British, the island became independent in 1968.
This lovely melon and citrus juice drink is the signature cocktail at the Golf Club Bar at the Le Saint Geran resort near the town of Poste de Flacq on the island of Mauritius. The resort is named after the French sailing vessel, the St. Geran which set sail from France in March of 1744 for the ile de France, the name of Mauritius when ruled by the French. The vessel was carrying machinery for the sugar refinery in the ile de France and 130 passengers. Although the sailing vessel was in the sight of the island earlier, the ship's captain Delaware decided to wait until the next day to approach. Sailing off coast during the night, the ship encountered strong currents and grounded on the rocks not very far from Poste de Flacq. Lying in 65 feet of water , the wreck is a protected and a popular scuba diving site.
The Green Island Fragrance cocktail is as lush as its surroundings. Slightly sweet,pineapple and lemon juices adds zing to this vodka based drink while the Midori softens it and adds the light green color. Careful though, the vodka is silent-this libation could very well sneak up on you.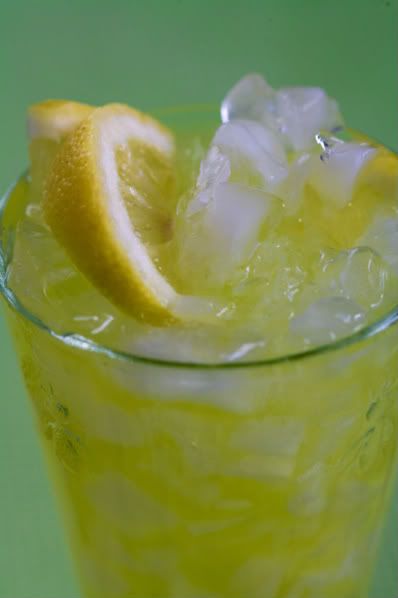 Green Island Fragrance
1-1/2 measures (see note) vodka
1/2 measure Midori
1 measure lemon juice
1 measure pineapple juice
dash sugar syrup
1 lemon wedge
Pour the ingredients into a cocktail shaker with some ice cubes. Shake and strain over crushed ice in appropriate glass. Squeese the lemon wedge over the drink, drop it into the drink and garnish with additional lemon wedge. Serve with a straw. Recipe from: "Around the World in 80 Cocktails" by Allen Gage
Note:
A measure is the equivalent of a shot which is 1-1/2 ounces or 3 tablespoons.




The Diva on a Diet who blogs at BeachEats is about 30 Thursdays Thursdays ahead of me. Check them all out. Also, Beat the Heat Cherry Lemonade at Lemon Tart.