Fully intending on making this Mexican Caesar Dressing, also called Cilantro Pepita Dressing, with romaine lettuce for Baja Mexican Fish Tacos for HHDD #12 event hosted by Katie B of OtherPeoplesFood , somehow with traveling and family commitments, I missed the date. While shopping for produce, I had a brainstorm after seeing some really good looking asparagus at the market. Why not use the dressing on grilled asparagus? I had a couple of hours to spare so made the dressing a few hours earlier, then grilled the asparagus on the my ever handy Weber gas grill. Voila! I wasn't really sure how the combination would taste together, but was pleasantly surprised at the way the flavors harmonized. The rich sauce comprised of toasted pumpkin seed, green chilies, cotija cheese, lime juice, cilantro and small amounts of olive oil and mayonnaise also goes well grilled meats and seafood salads.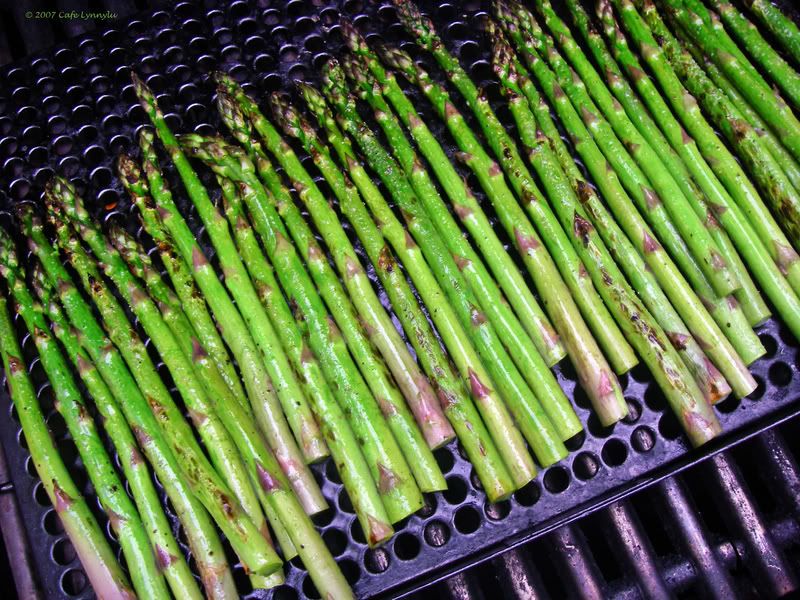 While searching for this dressing, I came across many versions of the Mexican Caesar Dressing, (Cilantro Pepita Dressing), but found that most had too much oil or too much mayonnaise in the ingredients. This dressing from, RecipeZaar, had the least amount of these fats.
Cilantro Pepita Dressing
For Cilantro Pepita Dressing
1 (4 ounce) can of chopped green chilies
2 tablespoons roasted pepitas (pumpkin or squash seeds)
1 garlic clove, peeled
1 dash ground black pepper
1/4 teaspoon salt
1/3 cup olive oil
1 tablespoon fresh lime juice
1 tablespoon grated Cotija cheese (you can also use Parmesan or feta cheese)
1/2 bunch fresh cilantro, stemmed
3 tablespoons mayonnaise
2 tablespoons water
Grilled Asparagus
1 lb asparagus, peeled and trimmed
3 tablespoons olive oil
Salt and freshly ground pepper to taste
Place asparagus in shallow pan, add oil, salt and pepper. Roll asparagus around until fully coated with the oil mixture. Preheat gas grill on high for 10 minutes. Turn off one burner and place asparagus on the that side. Grill for 5 minutes, constantly rolling asparagus around to keep from charring.
When choosing asparagus, look for firm heads and firm, deep green stalks. If stalks are dried out on the ends, chances are the asparagus stalks are old. Place asparagus in water to cover bottom of stalks until you can use them, but within a day of buying.
To serve, place asparagus on a platter and drizzle dressing over. Serves 4.
Facts About Asparagus:
Asparagus is a member of the lily family and grows from a crown planted in a trench about six inches deep. When planted under ideal conditions, asparagus can grown ten inches in a 24 hour period. An asparagus plant is usually not harvested for three years from the first planting. Each plant will send up 6-7 spears during the harvest season. Asparagus plants when cared for will continue to produce for about 15 years.
Asparagus is high in folic acid and is a good source of fiber, potassium, vitamins B6, A and C. Asparagus has no fat, no cholesterol and low in sodium. The larger the spears, the better the quality.