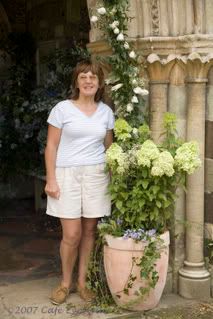 My dear friend of three decades, Jacqui, has the quintessential English garden replete with apple trees, damson plums and cascading over her fence in the summer time; plump, juicy blackberries waiting to be plucked from the vine where they will be transformed into crumbles, jams, pies and other luscious desserts that she does so well and with minimal effort, it seems. Jacqui and John live in a beautiful area of Dorset near Poole with it's beautiful harbor and colorful history of smugglers and ghosts.
My absolute favorite, when we visit is the Blackberry Apple Crumble covered with the ubiquitous Bird's_Custard which gives a smooth finish to this lovely, crumbly, sweet but tart dessert.
Jacqui's daughter, Hayley, a fine cook, whose food is always delicious and presented beautifully came up the very well-suited name, Hedgerow and Orchard Crumble. The hedgerows in England not only have an abundance of blackberries, but also black currants, sloes, and wild plums.The Bramley is the apple of choice when using cooking apples, but unfortunately, is unavailable here, so I used Braeburn apples for the crumble. I buy my blackberries from a local berry farm whose entire business is blackberries, strawberries and beautiful flower fields where you can cut your own flowers.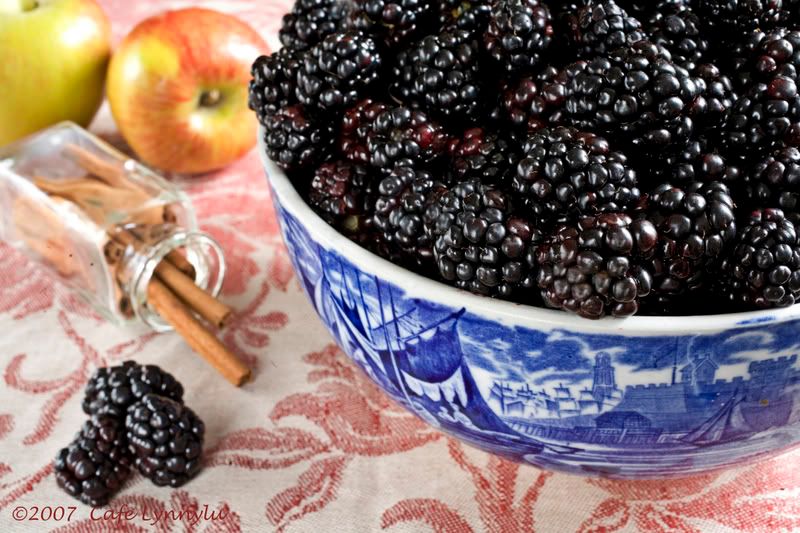 Ingredients for Hedgerow and Orchard CrumbleBlackberry Apple Mixture2 lbs (4-5) Braeburn or Bramley apples, peeled, cored and quartered, then cut into large chunks4 cups blackberries, washed and drained1/3 cup sugarCrumble Ingredients2 cups all-purpose flour3/4 cup (6 oz) unsalted butter1/2 tsp cinnamon1/3 cup sugarPreheat oven to 400 degrees F. Rub the butter into the flour with your fingertips or use a pastry blender. When mixture is the texture of coarse breadcrumbs, add the sugar and the cinnamon.Place blackberries, apples and sugar in a large baking dish. Toss gently. Cover the fruit with the crumble mixture. Bake for 20 minutes, reduce heat to 375 degrees F and bake for 30 minutes longer or until crust is brown and crumble is bubbly. Serve warm with Birds custard. Follow directions on tin for the custard.
Serves 6-8 generously.