You can have many bottles of herb vinegars in beautiful shades of green, pink, red and blue for just a fraction of the cost of the specialty vinegars bought in upscale grocery stores. Imagine imparting rich and surprising flavors to grilled meats, salads and sauces. All sizes and shapes of bottles can hold these vinegars and you can even add your own label and seal for a professional look. Fresh herbs are crucial for making these flavored vinegars as dried herbs tend to make the vinegar cloudy.Generally, you use 1 cup fresh herbs to 1 quart of cider vinegar, white wine vinegar or red wine vinegar. Use a good quality of vinegar with an acidity above 8%. After cutting your herbs in the early morning, wash and spin dry in a lettuce spinner to assure that the herbs are completely dry while taking care not to bruise the tender leaves and stems.Use perfectly clean and dry bottles with stoppers. Heating the vinegar is not recommended as it wilts the herbs and makes unattractive infusions. The process will be slower, but have more satisfying results. Place the desired herbs loosely in the bottle, adding other flavors to complement your vinegar and fill the bottle with the vinegar. Some herbs are stronger than others so consider what flavors you want to dominate and add accordingly. Add a stopper and label; let sit in a cool, dark place for 3-4 weeks, checking occasionally to make sure the herbs are completely covered with the vinegar. If you are adding fruit such as blackberries, raspberries or blueberries, use the *heat infusion method, adding 1/3 cup granulated sugar for each 1 cup fresh berries. Remove berries from infusion after a few weeks, strain vinegar and place in a clean and dry bottle.*Heat Infusion MethodPlace herbs and or berries in a large jar or bottle. In a saucepan, heat the vinegar to boiling point, remove from heat, and pour over herbs. Let steep until cool. Strain, remove wilted herbs and bottle with fresh sprigs of herbs and or berries.
Spicy Lime Mint Vinegar4 sprigs mint1 garlic cloveZest of 1 lime1 tablespoon coriander seeds1 quart white vinegarPlace mint, garlic clove, zest and coriander seeds in clean and dry bottle. Add vinegar. Steep for 2 weeks turning frequently. If you desire to use the vinegar immediately, there's no need to strain or filter. Otherwise, after the two week steeping period, strain out herbs, pour vinegar through a coffee filter and into a clean bottle. Add additional sprigs of herbs.The spicy lime vinegar would be great in a chicken or fruit salad. Try orange or lemon zest instead of lime zest for a different zing to the vinegar.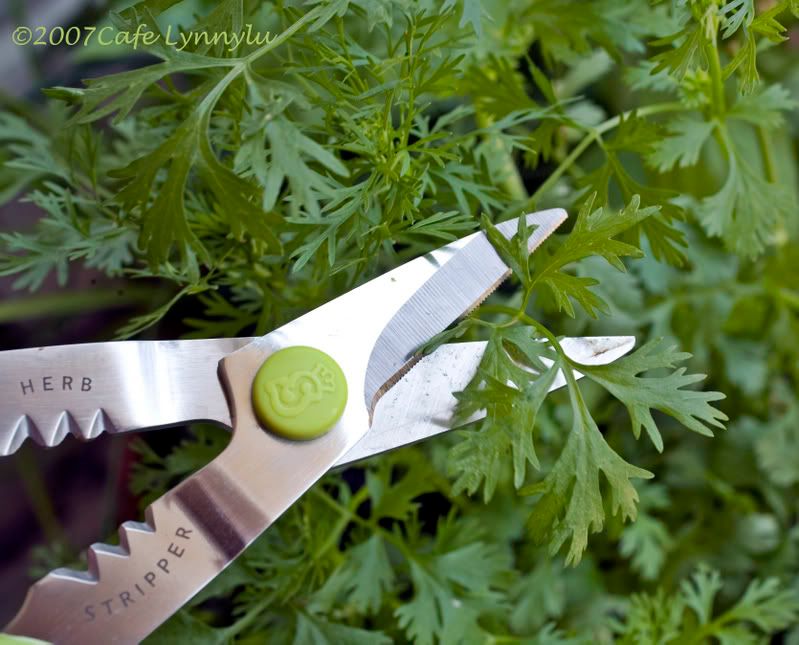 Orange Lime Vinaigrette2/3 cup Spicy Lime Mint Vinegar3 Tablespoons olive oil1/3 cup fresh orange juice1 Tablespoon Creole mustard1 Teaspoon minced garlic1 Tablespoon mild honey2 Tablespoons fresh, chopped cilantro leavesSalt and freshly ground pepper to taste.Makes about 1 cup.The Grilled Chicken and Avocado Salad is a very easy, colorful and tasty salad for the summer months. With the vinaigrette already made, all you need to do is grill the chicken breasts which are marinated for 20 minutes in a little olive oil,lime juice,salt and pepper; dice the avocados and cherry tomatoes and combine all the ingredients. There's no real recipe for the salad-you can add other ingredients such as chopped green onions, shredded cheese, even tortilla chips to make a Mexican style salad. However, remember to only lightly dress the salad with the vinaigrette. You can always add more, if needed.
Text and Spicy Lime Mint Vinegar Adapted From: The Herbal Pantry by Emmelie Tolley and Chris Mead. Orange Lime Vinaigrette are my original recipes.Part Three of Herbal Flavors will feature herb infused oils for cooking. Stay Tuned!.