It's martini day on Thirsty Thursday! Guaranteed to transport you to the tropics- the Tropical Mary, a sweet, slightly piquant martini with pineapple juice, juicy ripe mango, a jolt of Caribbean hot sauce, lime liqueur and vodka. Reminiscent of the Bloody Mary, the ever popular brunch cocktail, this Mary will liven up your Sunday brunch. Plus, for the sultry days of summer in our Northern Hemisphere- an ice cold watermelon martini concocted by my Thirsty Thursday partner in crime, Vibi, of Le Casserole Caree.


A bottle of Baron West Indian Hot Sauce, a gift from a friend who vacationed in St. Lucia this past summer was the impetus behind the creation of the Tropical Mary. The hot sauce is made from one of the hottest peppers, the Scotch bonnet pepper. Looking for a different cocktail, but using the traditional Bloody Mary martini as a blueprint, I learned that the traditional tomato juice can be replaced with pineapple juice, then called a Commander White. Playing around with the hot sauce, pineapple juice, fresh ripe mango, lime juice, lime liqueur and the vodka, I came up with this recipe. If you decide to make this drink, I'd love to know your opinion.
Tropical Mary Martini
1 teaspoon lime juice
3 slices ripe mango
1 teaspoon lime liqueur
3 ounces pineapple juice
1-1/2 ounces premium vodka
Generous dash Baron West Indian Hot Sauce
In a cocktail shaker, muddle together the lime juice and mango slices. Add the lime liqueur, pineapple juice, vodka and dash of hot sauce. Add crushed ice. Shake and pour into chilled martini glasses. Makes 1 drink.
Watermelons are abundant all year round, but are best in the summer months. Vibi must have found the perfect melon for her Watermelon Martini! What a tantalizing drink!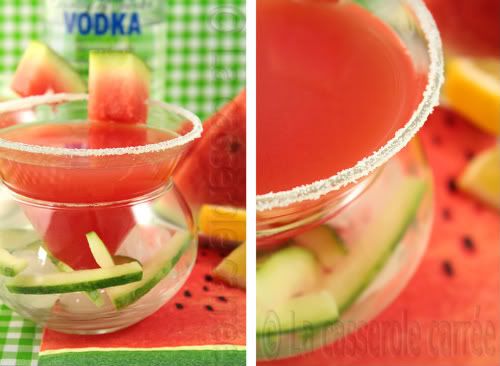 Not only is watermelon delicious in cocktails, but according to some researchers, watermelon could be the new Viagra! Read all about it and get the recipe for the watermelon martini on Vibi's post. Aside from it's reputed effect on one's sex life, watermelon is low in calories, high in potassium, lycopene and beta carotene. Plus, in my mind, it's the most refreshing of all the melons. Thanks to Vibi again for allowing me to showcase her lovely photos.