Because I have had too many packets of crispy pretzels tossed on my tray while flying, I chose the alternate Laugenbrezel-German style soft pretzels. These are my first foray into making pretzels and I was pleasantly surprised that they were not difficult at all. I used my bread machine processing the dough, removed it from the pan, placed it in the oil coated bowl, and refrigerated it covered the day before I made the pretzels. Most doughs can be refrigerated and prepared several hours or even a day or so later. If I have time, I always refrigerate my cinnamon roll dough a day ahead and there's a noticeable difference in the texture and flavor of the cinnamon rolls.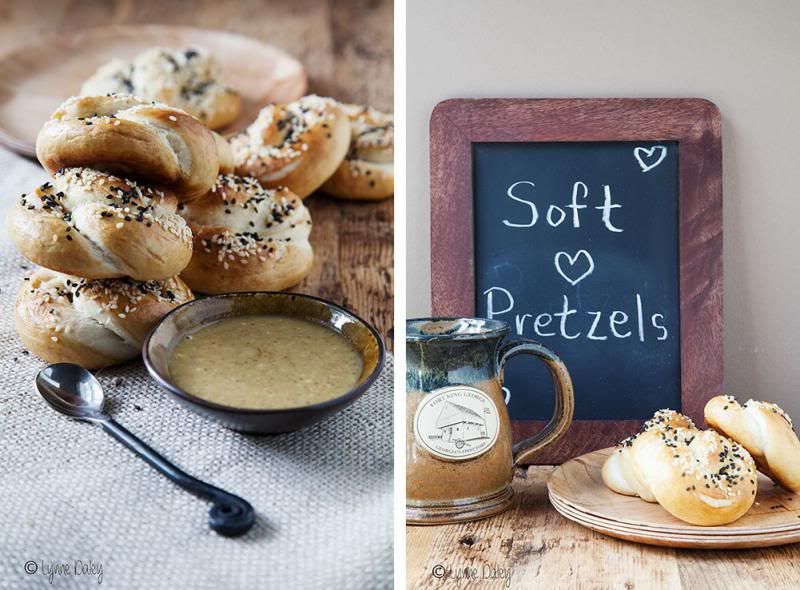 I won't go into the history of how pretzels came to be know, but you can read about it Today I Found Out or on Aparna's post on Crunchy Hard Pretzels. Suffice to say that hard pretzels are an American creation and soft ones are German.
Laugenbrezel (German Style Soft Pretzels) with Sesame Seeds
Ingredients
2-1/4 teaspoon dried active yeast
1-1/2 teaspoon sugar
1 cup warm milk
3 cups + 1/4 cups all-purpose flour
1 teaspoon salt
6 cups water
2 tablespoons baking soda
1 teaspoon cornmeal or semolina
2 tablespoons milk
2 tablespoons each white and black sesame seeds
Bread Machine Method
In a bread machine pan, combine yeast, sugar, warm milk, flour and salt. Process on the dough cycle according to manufacturer's instructions for your bread machine. When cycle has finished, remove dough from pan to a oiled bowl. Cover and let rise until doubled in size.Alternatively, place dough in an oiled bowl, cover and refrigerate for several hours or overnight.
When doubled, deflate dough, cover and let rise 5 minutes. Divide dough into 12 equal portions. Work with one portion at a time and cover remaining dough to prevent it from drying. Roll each portion into an 18-inch long rope with tapered ends. Cross one end of rope over the other to form a circle leaving about 4 inches at the end of each rope. Twist the rope at the base of the circle. Fold the ends over the circle and into a traditional pretzel shape, pinching gently to seal. Place pretzels on a light greased baking sheet. Cover and let rise 10 minutes (pretzels will rise only slightly).
Put the 6 cups of water and baking soda in a non-aluminum pan and bring to a boil. Turn down the heat and simmer. Gently lower a pretzel into the simmering water. Cook on each side for about 15 seconds. The pretzel will swell/puff up a bit. Remove from the water with a slotted spoon and place on a greased wire rack. Important step as this will prevent the pretzel from sticking to the rack. Repeat with remaining pretzels.
Place the pretzels on a baking sheet sprinkled with cornmeal or semolina. Brush with milk and sprinkle with sesame seeds. Bake at 220C (425F) for 12 minutes or until pretzels are deep golden brown.. Transfer to a wire rack to cool.
Serve warm with a dip of your choice or just plain. They are best eaten fresh and on the same day. Makes 12 pretzels.
Honey Mustard Dipping Sauce
3 tablespoons mayonnaise
2 tablespoons Horseradish mustard
1 tablespoon Dijon mustard
3-1/2 tablespoons honey
1/2 teaspoon freshly squeezed lemon juice
Whisk together all ingredients. Refrigerate until ready to serve.
ALL CONTENT © CAFE LYNNYLU
Please do not use images or text without my permission.