Lime Tree Can't Bear Orange ****
By Amanda Smyth
"Men will want you like they want a glass of rum……One man will love you. But you won't love him. You will destroy his life. The one you love will break your heart in two."








An edible book review for Food for Thought created by Jain of Once in a Blue Moon-"where pages from your book magically mix with the kitchen and your camera…"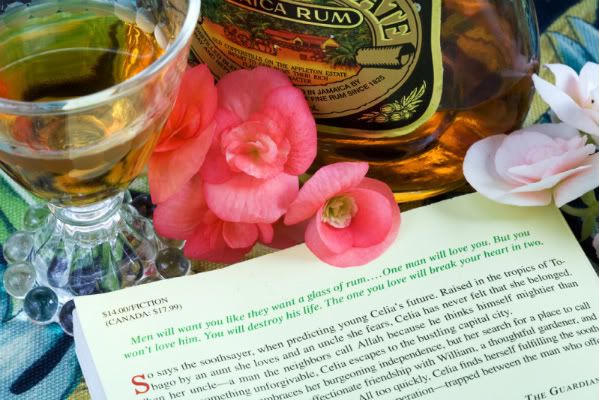 A captivating story of a young girl trying to come to terms with growing up in a world of male domination. Set in the lush islands of Tobago and Trinidad, Celia D'Abadie's parents are gone-her mother died giving birth to her. Her white father, an Englishman whom no one knows, but Celia is told he went back to England leaving her mother laden with child. Living with her Aunt Tassi and an abusive uncle, Celia longs to know who she is and what her parents were like. On an errand one day, she encounters Mrs. Jeremiah, a soothsayer who further confuses Celia by with her startling prediction. Celia flees Tobago after the uncle commits an unspeakable act. Ill and confused, she boards a boat for Trinidad and is befriended by William, a young gardener working for a English doctor in Port of Spain.

After healing, Celia begins work as a nanny for the English doctor and his delicate, somewhat unstable wife. The doctor begins nightly visits to Celia and she finds herself in love, even though it's quite obvious to everyone but Celia that it's William who is in love with her, not the doctor. The soothsayer's prediction seems to be coming true. It isn't long before the doctor's wife discovers the affair. Celia is forced again to flee, this time to stay with her Aunt Sula who works on a sugar plantation. When her aunt becomes ill, Celia goes back to Tobago-back where she started. Celia finds she has come full circle and has to now deal with adulthood in the same way her mother did. As her derisive Uncle Roman said-"dog can't make cat". Basically, you are who you are-Celia just didn't realize that!


A beautifully written book with lush descriptions of the islands of Tobago and Trinidad. The author, Amanda Smyth is quite familiar with the landscape and customs of these islands as she is Irish Trinidadian. While telling her story of Celia, she manages to convey what these islands had to deal with coming out of colonialism.
The cuisines of Tobago and Trinidad are a culinary fusion of many countries-Africa, Latin America, Syria, Chinese and European. There are many references to the unique foods, mostly the ones mentioned in "Lime Tree Can't Bear Orange" are homey foods, like pilau-a rice and pea dish, breadfruits, dasheen-a type of root vegetable like taro, and curried dishes. Choosing what to make was difficult. I finally decided on a Caribbean style dish, plus a Planters punch. I've come to realize that I'm a better cook and photographer than book reviewer!
Planter's Punch


2 ounces dark rum
2 ounces pineapple juice
2 ounces orange juice
1/2 ounce lime juice
Dash grenadine
2 drops angostura bitters
lime and orange slices for garnish


In a cocktail shaker with ice, combine juices, grenadine and rum. Shake well to chill. In a chilled glass, add 2 drops of angostura bitters, then ice. Strain juices and rum mixture into glass. Garnish with lime and orange slices Makes 1 drink.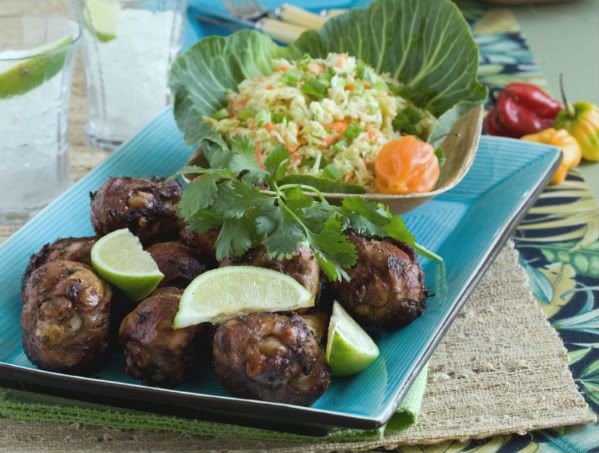 Island Grilled Chicken
3/4 cup soy sauce
1/2 cup dark rum
1/2 cup red wine vinegar
1/3 cup vegetable oil
2 tablespoons fresh thyme leaves
1 tablespoon minced fresh ginger
4-6 garlic cloves, minced
1-2 Scotch bonnet peppers, seeded and minced
1 teaspoon ground black pepper
1 teaspoon ground nutmeg
1 teaspoon ground allspice
Juice of 1 lime
8-10 chicken drumsticks
Combine all of the ingredients, except the chicken, in a large bowl and whisk well. Add the chicken, cover and refrigerate for 2-4 hours. Stir marinade after 1 hour.
Preheat a gas or charcoal grill for indirect heat according to instructions for your grill. When grill is ready, oil the grate. Place chicken on the grill over low or indirect heat. Cover grill, cook for 45 minutes to 1 hour turning every 15 minutes. The meat is done when the chicken pulls easily from the bone. Serve with the coleslaw. Recipe from "Global Grilling-Sizzling Recipes from Around the World"by Jay Solomon.
Island Slaw
4 cups shredded cabbage
1 cup shredded carrots
1 cup mayonnaise
2-3 tablespoons white vinegar
1-2 tablespoons sugar
1/2 Scotch bonnet pepper, seeded and minced
1/2 teaspoon ground black pepper
1/2-3/4 teaspoon salt
1/4 teaspoon ground allspice
Combine ingredients in a bowl and toss thoroughly. Chill until ready to serve. Makes 4 servings. Recipe from Global Grilling-Sizzling Recipes from Around the World" by Jay Solomon