"Grilling, broiling, barbecuing – whatever you want to call it – is an art, not just a matter of building a pyre and throwing on a piece of meat as a sacrifice to the gods of the stomach."James Beard, 'Beard on Food' (1974)
My pulled pork barbecue is a result of years of making different rubs, brining the pork at times, smoking and cooking it totally on the grill or smoking it for half of the cooking time , then wrapping in foil and cooking in the oven until very tender so as to achieve the pulled pork texture. I doubt that this will be my final recipe and technique as I tend to experiment all the time with different rubs, smoker chips or chunks,charcoal or gas grills etc. However, my recipe reflects the peppery, slightly piquant style of Eastern North Carolina barbeque. Fresh hams bone-in are my favorite cut of pork even though most BBQ chefs use a Boston butt. The fresh ham isn't as fatty as the Boston butt, however, the flavor is just as good.
Ingredients
1/2 cup brown sugar
1/2 cup paprika
4 tablespoons black pepper
4 tablespoons salt
2 tablespoons cayenne pepper
4 teaspoons dry mustard
1 tablespoon pure chili powder
1 tablespoon ground cumin
The Meat
1 5-6 pound fresh ham or Boston butt
4-5 tablespoon of rub
Rub into meat, cover and refrigerate 3-8 hours
The Mopping Sauce
4 cups cider vinegar
1 cup water
1/4 cup Rub
1/2 cup ketchup
1 tsp red pepper flakes
Makes about 5 cups.
Reserve 1 1/2 cups for mopping sauce-remainder will be used to moisten pork after it has been cooked and pulled.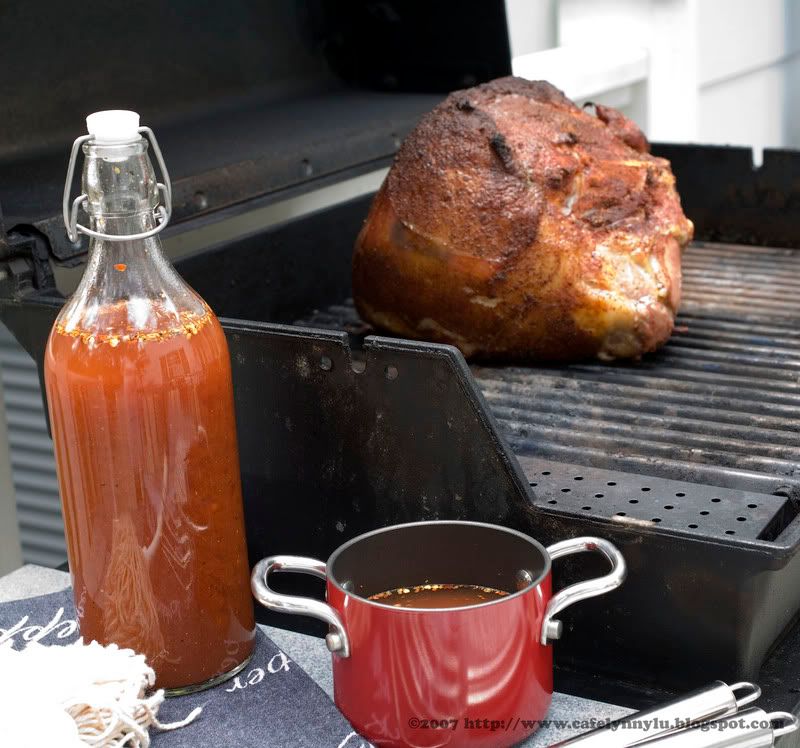 Soak 2 cups smoking chips for 30 minutes or more. Place in smoker box of gas grill, turn all burners on High and preheat until smoke appears. Lower heat to medium low. Remove pork from refrigerator and place on grill. After 30 minutes, baste with mopping sauce and continue to baste every 30 minutes after that taking care not to let too much heat out.Smoke for 3 hours, adding chips as necessary to maintain smoke.
Remove roast from grill. Tear off a piece of aluminum foil large enough to wrap roast in and place in roasting pan. Pour contents of one beer over roast. Wrap tightly and place in 350 degree oven for about 3 hours. Pork should be very tender.
Transfer the cooked pork to a cutting board, tent with foil and let rest for 20 minutes. Pull off skin and fat and with a fork or your fingers, pull meat apart-1-2 inches long and 1/4 inch wide. You can chop pork if you like. Add mopping sauce to pork as desired to moisten. To serve, pile pork onto hamburger bun top with North Carolina Coleslaw.
North Carolina Coleslaw
1 small head of green cabbage, cored and finely shredded
1 cup Vinegar Sauce(remainder of mopping sauce)
Mix together and let stand 10 minutes. Add salt and pepper to taste.