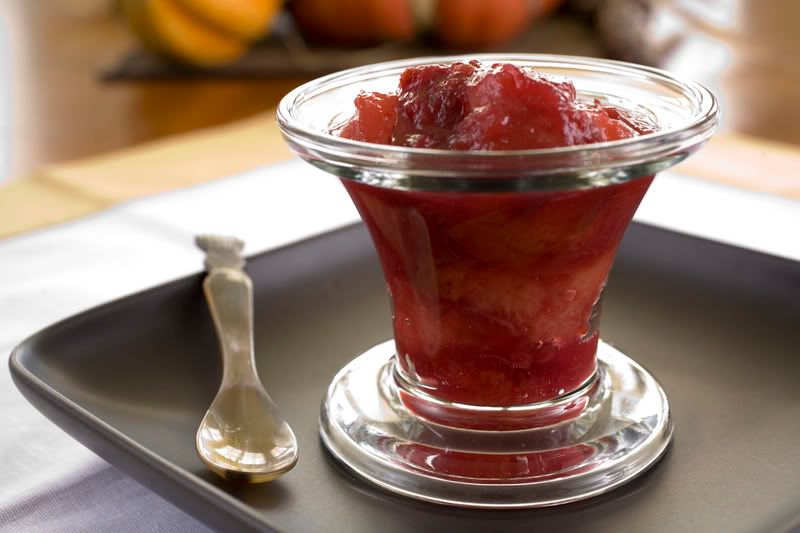 A delicious and easy jam to serve with the cream currant scones.
Melt in your mouth scones with plum jam and creme fraiche.
QUICK PLUM JAM
Active time: 45 min Start to finish: 2 hr
2 lb firm-ripe red, black, or fresh prune plums, halved and pitted
1/2 cup sugar-I used vanilla sugar
1/2 cup water
1 (3-inch) cinnamon stick
Coarsely chop plums and stir together with sugar, water, and cinnamon stick in a 2-quart heavy saucepan. Simmer, uncovered, stirring occasionally (more often toward end of cooking to prevent sticking), until thickened and reduced to about 2 1/2 cups, 45 minutes to 1 hour.
Discard cinnamon stick and cool preserves. Transfer to an airtight container and chill, covered.
Cooks' note:
• Preserves keep, chilled, 1 month.
Makes about 2 1/2 cups.
Gourmet
July 2002 .
Cream Currant Scones
These scones taste identical to those I have enjoyed while visiting friends in England. They are not in the low-calorie or low-fat category.
Makes 8
2 cups unbleached all-purpose flour
1 tablespoon baking powder
3 tablespoons sugar
1/2 teaspoon table salt
5 tablespoons unsalted butter , chilled and cut into 1/4-inch pieces
1/2 cup currants
1 cup heavy cream
1. Adjust oven rack to middle position and heat oven to 425 degrees.
2. Place flour, baking powder, sugar, and salt in large bowl or workbowl of food processor fitted with steel blade. Whisk together or pulse six times.
3. If making by hand, use two knives, a pastry blender, or your fingertips and quickly cut in butter until mixture resembles coarse meal, with a few slightly larger butter lumps. Stir in currants. If using food processor, remove cover and distribute butter evenly over dry ingredients. Cover and pulse 12 times, each pulse lasting 1 second. Add currants and pulse one more time. Transfer dough to large bowl.
4. Stir in heavy cream with rubber spatula or fork until dough begins to form, about 30 seconds.
5. Transfer dough and all dry, floury bits to countertop and knead dough by hand just until it comes together into a rough, slightly sticky ball, 5 to 10 seconds. Following illustrations for Wedge Biscuits on page 209, cut scones into 8 wedges. Place wedges on ungreased baking sheet. (Baking sheet can be wrapped in plastic and refrigerated for up to 2 hours.)
6. Bake until scone tops are light brown, 12 to 15 minutes. Cool on wire rack for at least 10 minutes. Serve warm or at room temperature.
Recipe From Cooks Illustrated
Photographed with a Canon 5D and a 50mm macro lens. Lighting -Alien Bees B800 strobe and a Westcott 60″ white satin umbrella.