Do you know what a "drupe" is? I've just come upon this word while researching some information on plums that I am making an easy jam with. A drupe is another word for stone fruit, one that is a fleshy fruit with a single hard stone in which a seed is encased. Peaches, plums, cherries and olives are drupes as are elderberries and almonds. Stoning these fruits can be difficult. With the plums I used for the plum jam here, I found that an old pair of small ice tongs worked well releasing the stone from the plum without completely tearing it apart. I halved the plum, grasped the stone with the ice tong and then twisted it clockwise. The stone came free with out taking too much of the plum flesh with it. Before I began the task of stoning the plums, I rinsed them and drained them in a mesh colander, part of a set of colanders that I have had for years. It is fortuitous that on the Foodbuzz' Daily Special for June 11, 2010, Chef's Catalog has a special sale on a set of three colanders.
But back to making this easy plum jam which keeps in the refrigerator for about a month-if it lasts that long! The jam is quite tart, but when spread on a rich, buttery shortcake or scone, all the flavors seem to intermingle. Add some creme fraiche with that combination and you have a lovely dessert for teatime.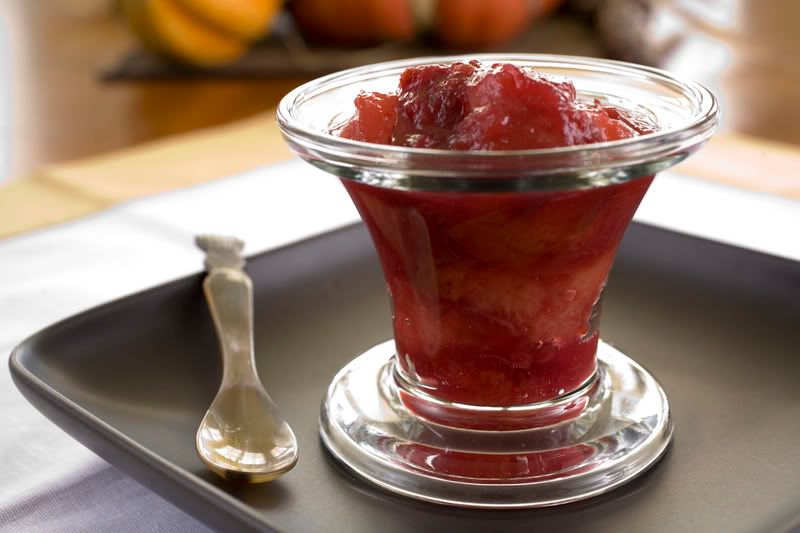 Plum Jam
2 pounds ripe plums, halved and pitted
1/2-3/4 cup sugar (the jam is quite tart, so you may want to use more than 1/2 cup)
1/2 cup water
1 cinnamon stick
Coarsely chop plums. In a large pot, combine plums, sugar, water and cinnamon stick. Stir. Simmer over low heat, stirring occasionally to keep from sticking. Cook for about 45 minutes until thickened and reduced to about 2-1/2 cups. Remove from heat. Discard cinnamon stick; cool and refrigerate.