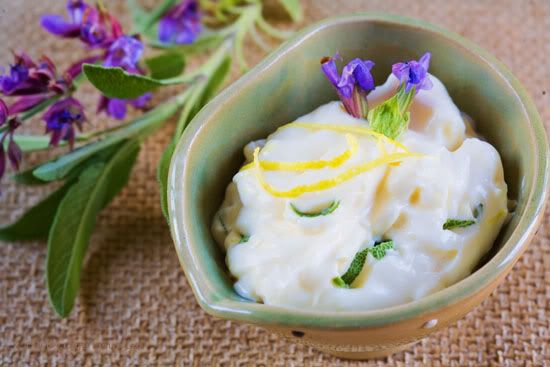 It's great grilling weather finally and my herb garden is beginning to really take off now. The sage is in it's second year and beginning to burst into bloom with tiny lavender flowers, a lovely compliment to its light green, velvety leaves. Sage is quite a versatile herb, but traditionally is used in my kitchen in the bread stuffing at Thanksgiving. Since I have an abundance of new Spring growth, I wanted to pair the sage with a grilled meat dish. While looking through my cookbooks, I happened upon a Bobby Flay recipe for Pork Adobo Sandwich with Sage Aioli using homemade cornmeal rolls. The pork tenderloin for the grilled pork adobo is sliced, pounded thin,then marinated in a spicy mixture of tomatoes, three varieties of chile powders,red wine vinegar, garlic, olive oil along with some honey and brown sugar to add a sweet hot flavor to the marinade.Making the Sage Aioli is a snap using prepared mayonnaise. Not a true aoili, but close enough. Minced garlic, fresh sage chiffonade, lemon juice and lemon zest make up the rest of the aioli. The rustic cornmeal rolls are the perfect foundation for the spicy pork.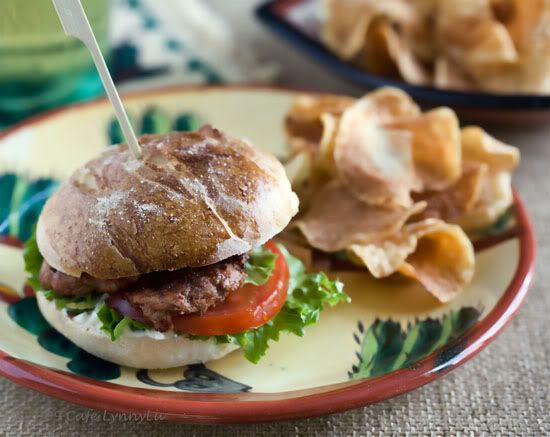 Lemony Sage Aioli1/2 cup mayonnaise1 teaspoon minced garlic1 tablespoon fresh sage chiffonade1 tablespoon lemon juice1 teaspoon lemon zestCombine all ingredients in a small bowl. Garnish with more lemon zest, and sage flowers before serving. Can be made 2 days ahead of time and refrigerated covered. Bring to room temperature before serving. Makes 1/2 cup. Adapted from Bobby Flay's "Bold American Food".Pork Adobo1 1/2 pounds pork tenderloin1 1/2 cups Adobo Marinade (recipe below)1/4 cup Lemony Sage Aioli1 garden fresh tomato, cut into 8 slices8 romaine leaves4 homemade Cornmeal Rolls (recipe below)Potato chips to serve.Cut meat into 16- 1/2 inch-thick slices and pound very thin.Pour the adobo marinade over the slices and marinate refrigerated for 1 hour. Prepare a charcoal fire or preheat a gas grill. You can also broil these in the oven. Season with salt and pepper to taste. Grill for 2 minutes a side. Remove from grill and keep warm.To assembleFor each sandwich, layer 4 slices of pork, 1 tablespoon aioli, 2 slices tomato, and 2 romaine lettuce leaf between halves of the roll. Serve with chips.Adobo Marinade2 cups drained canned diced tomatoes3 tablespoons ancho chile powder1 teaspoon ground cumin1/2 to 1 tablespoon ground chipotle chili powder1 tablespoon honey1 tablespoon dark brown sugar3 tablespoons red wine vinegar3 cloves garlic, minced1/4 cup olive oilPuree marinade ingredients in a food processor. Makes 3 cups. May be made ahead and refrigerated up to 2 days. Adapted from Bobby Flay's "Bold American Food".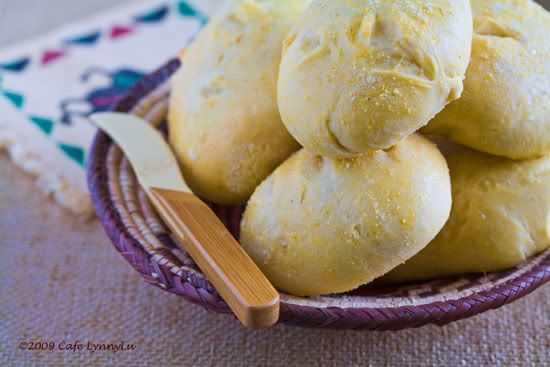 Cornmeal Rolls From Bobby Flay's "Bold American Food".1/2 cup warm water1 tablespoon sugar1 envelope active dry yeast1 tablespoon salt3/4 cup coarsely ground yellow cornmeal1 cup whole milk2 tablespoons dark brown sugar5 1/4 to 6 cups all-purpose flourEgg wash, made from 1 egg lightly beaten with 1 teaspoon waterCoarse yellow cornmeal for sprinkling on rollsPreheat oven to 350°F. In the bowl of an electric mixer, combine the water, sugar and yeast. Set aside in a warm place until bubbling, about 10 minutes.In a medium saucepan over high heat, bring 1 cup water to a boil with the salt. Add 1/2 cup cornmeal, whisking constantly until mixture returns to a boil. Remove from heat and cool to room temperature.Add to the bubbling yeast mixture the milk, brown sugar, cooked, cooled cornmeal and 5 1/4 cups flour. With the dough hook attachment, mix on low speed for 15 minutes, adding more flour if the dough sticks to the bowl. The dough should be smooth, elastic and slightly sticky. Transfer to a large greased bowl, cover with a damp towel and put in a warm place to rise until it increases in volume about one-third.Line a baking sheet with parchment paper and sprinkle with cornmeal. Divide dough into 12 balls, place on baking sheet and flatten slightly. Cover with plastic wrap and let rise in a warm place until nearly doubled. Score the top of each roll once with a sharp knife, brush with egg wash, and sprinkle with cornmeal. Bake for 10 minutes, rotate pan and bake for 10 minutes more, until they sound hollow when tapped on the bottom. Cool in pan. Makes 12 rolls.This month I am pleased to be one of the judges for the April edition of Click, the very cool photography contest hosted by creators Bee and Jai of Jugalbandi. The theme is "Spring/Autumn". April 30, 2009, midnight EST is the deadline. I am submitting the Lemony Sage Aioli photo as my entry as one of the judges.