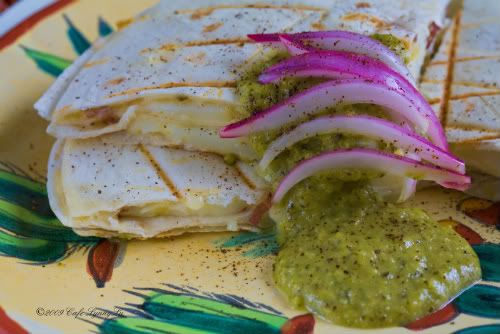 Perfect for a side dish to a grilled meal or serve for breakfast with scrambled eggs, the potato cheese quesadillas are composed of sliced, roasted new potatoes and Monterey Jack cheese with jalapenos. The baked quesadillas are slathered with a tangy sweet poblano sauce that would be delicious with grilled chicken or as a topping for green chile enchiladas. Garnish with thinly sliced red onions or pickled red onions, recipe here. The potatoes and sauce can be made one day ahead to make this hearty, flavorful side simple put together. Adapted from "Bold American Food" by Bobby Flay with Jean Schwartz.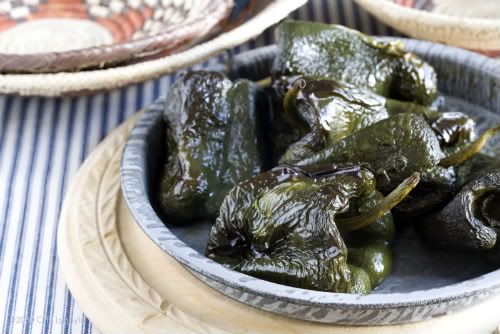 Poblano chiles are much like green bell peppers, but are darker green, have a thicker flesh and are more elongated than its bell pepper cousin. Although poblanos are best known for chile rellenos, a cheese or meat stuffed chile dish originally from the city of Puebla in Mexico, this traditionally mild pepper is also used in many sauces and salsas.How to Roast Poblano ChilesTo roast the poblanos-wash and dry the peppers. Using a tablespoon or so of vegetable oil, coat the peppers well. Season with salt and pepper. Place in a preheated 375 degree F. oven and roast for 20-25 minutes. Remove from the oven, place in a paper bag for 5 to 10 minutes to allow the steam to loosen the skins. Cut the peppers in half, peel, seed and cut into strips.Potato Quesadillas with Roasted Poblano Sauce
12 new potatoes or small red potatoes
1/4 cup olive oil
Salt and pepper
Eight 6-inch flour tortillas
1 to 1-1/3 cups grated Monterey Jack cheese with jalapenos
1 tablespoons ancho chile powder
Roasted Poblano Sauce-Recipe follows.
Preheat oven to 400 degrees F.
Rub the potatoes with half the olive oil and season them with salt and pepper. Place them on a baking sheet and roast for 40 minutes, or until done. Cool. Cut the potatoes in 1/4 -inch slices.
Lay the potato slices on 1 flour tortilla, leaving 1/2 inch at edge; sprinkle with 1/3 cup cheese. Season with salt and pepper.
Lay another flour tortilla on top of potato and cheese filled tortilla. Press to seal the edges.
Before serving, brush top lightly with oil and sprinkle with ancho chile powder.
Bake about 6 minutes, or until tortilla is crisp. Cut in quarters and drizzle with Roasted Poblano Sauce and garnish with pickled or thinly sliced fresh red onions. Serves 4 as a main course.
Roasted Poblano Sauce
2 poblano chiles, roasted, peeled and seeded
1/4 medium red onion, chopped
2 tablespoons fresh lime juice
3/4 cup olive oil
1/2 cup spinach leaves
2 teaspoons honey
Salt and freshly ground pepper
In a blender or food processor, combine poblanos, red onion and lime juice. Blend until smooth.
While the machine is running, add the oil slowly until emulsified. Add spinach and blend until smooth.
Season with salt and pepper.
Sauce may be made up to 1 day ahead, covered and refrigerated.
Makes about 1-1/2 cups sauce