The Samurai's Garden *****
Once again, I'm joining in Food for Thought, the brainchild of Jain of Once in a Blue Moon whose stunning photos are not to be missed. Food for Thought embodies not only the the joy of reading, but the love of food; and for those of us who are also camera aficionados, the satisfaction of making and photographing the dishes that we read about.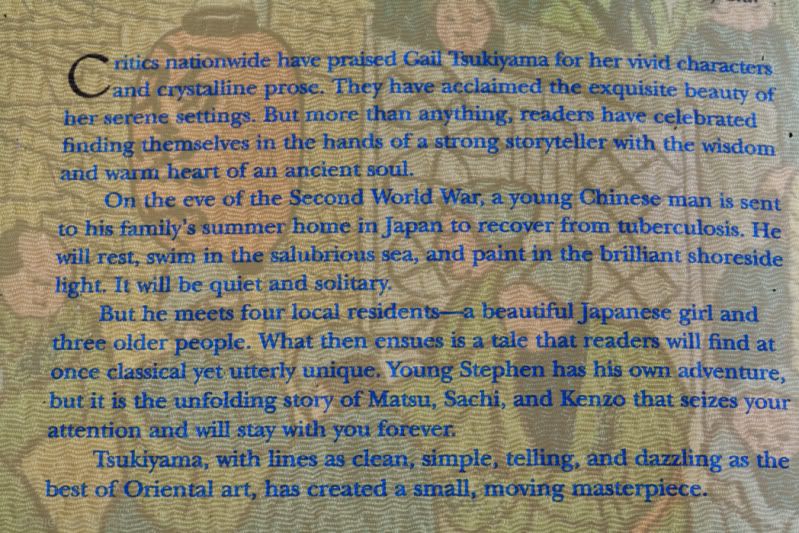 Many books I hurry to finish, but The Samurai's Garden is one I wished would never end. A beautifully written book by Gail Tsukiyama about a Chinese college student racked with tuberculosis who is sent to his Japanese grandfather's beach house in Tarumi to heal his body, but in the end manages to heal, also his soul. The time is 1937, the Japanese Imperial Army is invading China. Stephen feels lost as a young Chinese man in a Japanese village where most of the young men are off fighting the war. He meets a lovely Japanese girl on the beach, but because of the war, she is not allowed to see him. Matsu takes him to see Sachi, who has banished herself to a leper colony to spare her family and her fiance, Kenzo from the shame and embarrassment of her affliction. Although Stephen is the main character in this richly poetic novel, the four people he meet are dominant. The Samurai's Garden is a moving story of love, the cruel hand of disease, personal tragedy, culture clashes and longing. The plot pales beside the depth of the characters.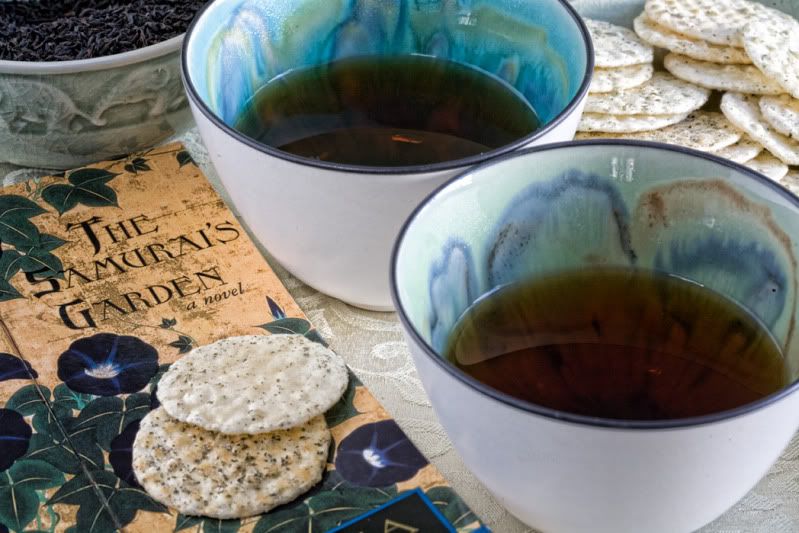 Matsu, caretaker of the beach house cooks for Stephen his grandfather's favorite breakfast-bacon and eggs, a Western dish. Other than that, all the food references are to traditional Japanese food. Tea and rice crackers, miso soup, red bean cakes, fish cakes and noodle dishes are abound. There are picnics with foods wrapped in colorful cloths called "furoshiki", a traditional Japanese wrapping cloth, shown below.
In the end, I decided on a cold peanut noodle dish made with creamy peanut butter, toasted sesame oil, chile garlic paste, ginger and garlic and topped with a salad of shredded romaine, carrots in a sesame vinaigrette. Although, not traditionally Japanese, it was close and I knew we would like it. Plus, it's super easy and colorful.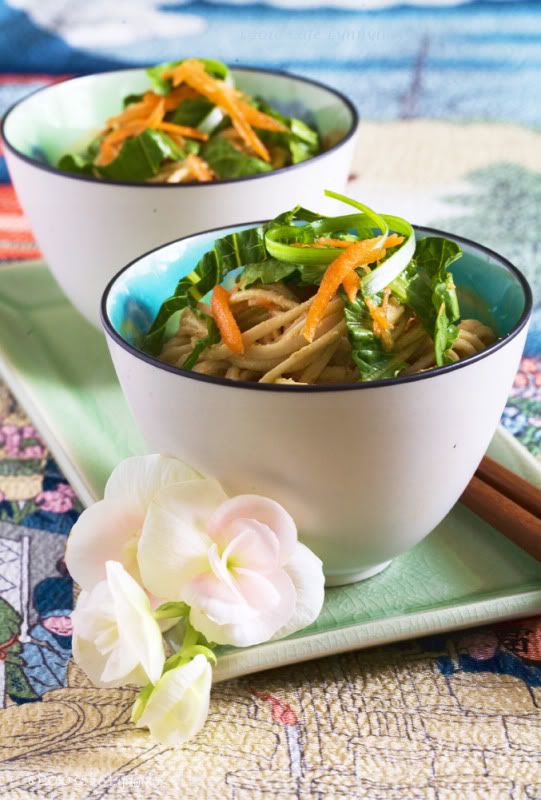 Cold Peanut Noodles
Adapted from Body + Soul Magazine, April 2010
1/2 pound udon noodles or whole wheat spaghetti
1/2 cup creamy peanut butter
2 teaspoons low-sodium soy sauce
1 teaspoon toasted sesame oil
1-1/2 teaspoon chile garlic paste
1/2 teaspoon grated fresh ginger
1/2 teaspoon minced garlic
1/2 teaspoon sugar
1/3 cup water
Salad Ingredients
1 cup shredded or julienned romaine letter or baby bok choy
1/3 cup shredded carrots
2 teaspoons soy sauce
1/3 cup rice vinegar
1 teaspoon toasted sesame oil
Pinch salt
Cook noodles in a large pot of salted boiling water. While noodles are cooking, prepare sauce. Whisk together the peanut butter, soy sauce, sesame oil, garlic paste, ginger, garlic and sugar. Thin with up to 1/3 cup water.
When noodles are done,drain and rinse under cold water. Drain well. Toss sauce with pasta and thin with a little more water if desired. Combine salad ingredients. Divide pasta among 4 bowls. Top with salad.