This is my second posting on focaccia, the first one a Rosemary Focaccia, a wonderful Italian flatbread which starts with a very simple dough made with or without a biga(a type of sourdough starter), stretched out in an oiled baking pan and topped with a myriad of toppings. Focaccia dough can also be made into individual breads and filled with meats or cheeses. The dough is basically a blank canvas with you as the artist. Rather than post another savory focaccia, I opted for a sweet one-a grape schiacciata, a sweet focaccia dough redolent with crushed anise seeds and Sambuca, an anise-flavored liqueur, layered with grapes and covered with a crunchy turbinado sugar. In Tuscany, Sangiovese grapes are used, but here I have used purple seedless grapes.Schiacciata means flattened, crushed or squashed in Italian and is a term that means flatbread from Tuscany, whereas focaccia is more of a broad term for flatbread. Schiacciate can be sweet or savory and made with or without the biga. I am a great admirer of Carol Field whose books on Italian food traditions are among the best. Schiacciata con l'uva comes from her book Focaccia-Simple Breads From the Italian Oven.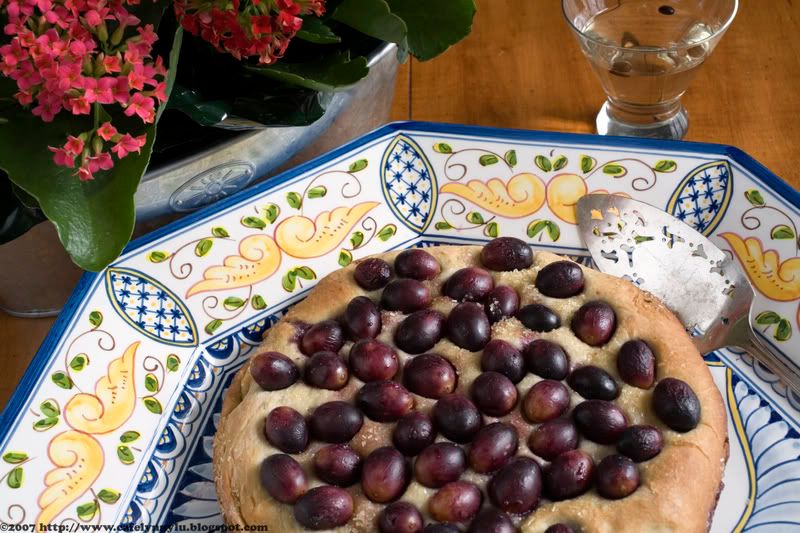 IngredientsSponge or biga2 teaspoons active dry yeast-not rapid-rise yeast1/4 cup sugar1 cup warm water,105 degrees to 115 degrees F1 cup plus 2 teaspoons(150 grams)unbleached all-purpose flourDough3 tablespoons Sambuca liqueur3 tablespoons warm water, 105 to 1152 1/2 cups(350 grams) unbleached all-purpose flour1 teaspoon sea salt2 teaspoons aniseeds, slightly crushed1/2 cup(1 stick) unsalted butter, room temperature, cut into 8 equal pieces.Topping3 pounds seedless Red Flame grapes stemmed and washedAbout 6 tablespoons turbinado sugarSambuca liqueurTo make the sponge: Whisk the east and sugar into the warm water in a large mixer bowl and let stand until frothy, about 10 minutes. Stir in the flour in 2 additions, then cover tightly with plastic wrap and let stand until bubbly, about 30-45 minutes.To make the dough: Beat the liqueur and water into the sponge. In a heavy-duty mixer, mix the flour, salt,and aniseeds into the yeast mixture with the paddle attachment. Stir in the butter 2 pieces at a time. Change to the dough hook and knead for about 3 minutes, or until the dough is slightly sticky, elastic, and can be pulled up into peaks with your fingertips.First rise. Place the dough in a lightly oiled container, cover tightly with plastic wrap, and let rise 30 minutes.Second rise. Divide dough into 4 equal pieces and roll each into a ball. Place each one on a lightly floured rimless baking sheet and let rise 1 hour. If you have a baking stone, about 30 minutes before you plan to bake, preheat oven to 450 degrees with the baking stone inside.Shaping: Lightly oil two 10-inch springform cake pans. Take 1 round of dough and flatten it so that it fills the bottom of the baking pan. Cover with a layer of grapes and sprinkle with about 1 tablespoon turbinado sugar.
Flatten and stretch out a second ball of dough, place it on top of the grapes, and flatten it to cover the grape layer. Pinch the edges together well. Cover with a second layer of grapes and sprinkle 1-2 tablespoons turbinado sugar over the top. Repeat with remaining dough and grapes for second pan.
Baking: Place the baking pans in the oven on the baking stone and bake for 15 minutes. Reduce temperature to 375 degrees F, tilt the pan to collect the sugar syrup, and spread it along with a bit of Sambuca over the top of the dough. Continue baking until golden brown, 15-20 minutes. Let cool a few minutes in the pan, then slide the schiacciate out and let cool on a rack.Makes two 10-inch schiacciate, serves 10-12.Enjoy a slice with a glass of Sambuca. Don't forget to float three coffee beans in your glass to guarantee wealth, health and happiness.