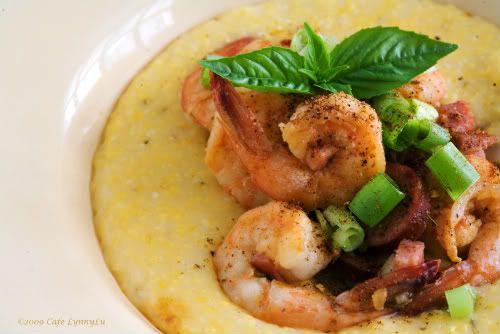 In the low country area of South Carolina and Georgia, shrimp and grits was traditional breakfast fare for fisherman during the shrimping season. Its rise to haute cuisine began when Craig Claiborne promoted North Carolina chef, Bill Neal's shrimp and grits recipe in his book, Southern Cooking, published in 1987. Shrimp and grits is now on the menu of many seafood restaurants, especially in the South. There are many variations of this dish now, but the essential ingredients are shrimp, cooked in a sauce,and grits,preferably stone ground.
Shrimp Boats on Turners Creek, Near Savannah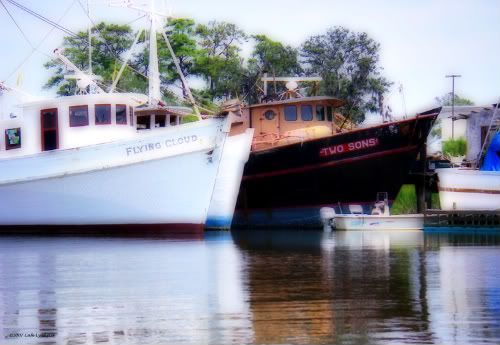 While on vacation on Isle of Palms near Charleston several years ago, I had shrimp and grits at SNOB (Slightly North of Broad), a Maverick Southern Kitchen group. A spicy concoction that included not only shrimp, but ham, sausage and scallops, in a tomato-based sauce served on creamy grits. Below is my version, called Skidaway Island Shrimp and Grits. Skidaway is a lovely island near Savannah, Georgia.
Skidaway Island Shrimp and Grits
Serves 4.
Ingredients
Grits
4 cups chicken broth
1/2 teaspoon salt
2 tablespoons unsalted butter
1 cup stone ground grits, such as Bob's Red Mill brand.
1/4 cup heavy cream
Shrimp Topping
1 1/2 links(about 8 ounces) andouille sausage, cut into 1/4-inch-thick slices
4 ounces smoked ham, chopped
2 tablespoons unsalted butter
1/2 pound large shrimp, peeled and deveined
2 tablespoons mild tomato salsa
1/4 teaspoon minced garlic
To Garnish
1/2 cup sliced green onions
Pinch of Southwest seasoning, purchased or recipe below
Make Grits
Bring chicken broth, salt and butter to a boil in a heavy saucepan. Whisk in grits and simmer on low, covered, stirring frequently, until grits have thickened, about one hour. Stir in cream and remove from heat.
Make Topping
Cook andouille and ham in 1/2 tablespoon butter in a heavy skillet over medium heat, stirring until ham is golden, about 3 minutes. Transfer to plate with slotted spoon. Add 1/2 tablespoon butter to skillet and heat. Add 1 tablespoon butter to skillet and cook shrimp, turning until cooked through, about 3 minutes. Stir in sausage, ham and 2 tablespoons salsa. Cook, scraping up brown bits, until heated through. Season with salt and pepper to taste.
To Serve
Divide grits among 4 bowls, top with shrimp mixture. Garnish with sliced green onion and a pinch of Southwest seasoning.
Southwest Seasoning
Ingredients:
Makes 1/2 cup.
2 tablespoons ancho chili powder
1/2 teaspoon chipotle chile powder
2 teaspoons ground cumin
2 tablespoons paprika
1 tablespoon dried oregano
1 tablespoon ground coriander
1 teaspoon cayenne pepper
1 tablespoon garlic powder
1 teaspoon crushed red pepper
1 tablespoon salt
1 teaspoon freshly ground black pepper
Combine all ingredients thoroughly.