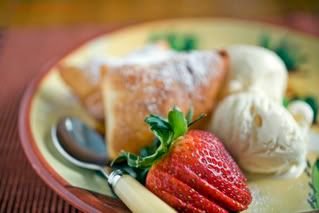 Update- We are now journeying through Guadalajara, Mexico for World Culinary ABC and our host, Lucia blogs at Torta di Rose. I am as usual late joining in on the journey. I am an aficionado of Mexican and Southwestern United States cuisine and have quite a few recipes that I might be able to post before the deadline. This sopaipilla recipe is my favorite.
Nearly every cuisine has a fried bread either leavened with yeast or baking powder. In the Southwest and Mexico, it is the sopaipilla, reminiscent of the Native America Fry Bread which is a staple among the Navajo Indians and other American Indians of the Southwestern region of the United States.
Sopaipillas are golden fried puffs of bread traditionally served at the dinner table in the Southwest, Mexico and South America, but are equally delicious drizzled with honey or stuffed with meat and beans.
I am a great fan of Jaqueline Higuera McMahon, writer of the "South to North" column in the San Franciso Chronicle and author of six books related to chiles and Southwestern food. An eighth generation Californian, McMahon's first book is a collection of early California recipes and stories of her great great great grandfather, Jose Loreto Higuera and the family's Rancho Lost Tularcitos.
My sopaipilla recipe comes from McMahon's "Red and Green Chile Book, A Cook's Guide with Savory Recipes published in 1987, but no longer in print. McMahan's recipe has step by step instructions for mixing by hand, but I put all the ingredients in my bread machine on the dough cycle.
Sopaipillas are my entry into this months edition ofWaiter, Theres Something in My—Bread hosted by Andrew of Spittoon Extra.
Sopaipillas
3 3/4 cups all purpose flour
1 1/2 teaspoons of salt
1 1/2 teaspoons baking powder
3 tablespoons shortening
1 teaspoon dry yeast
3 tablespoons warm water
Pinch of sugar
1 cup evaporated milk, plus 2 tablespoons
2 cups light oil, for frying
Follow your bread machine's instructions for the dough cycle, but skip the rise cycle. Take the dough from the machine,form into a ball, cover and let rest for 30 minutes. Punch dough down and divide in half. Wrap in plastic wrap so it doesn't dry out.
Roll out the dough in a rectangle, about 1/4 inch thickness. Fold in half and roll out again. Trim uneven edges with a sharp knife. Cut into 12 rectangles. Heat oil in a deep saucepan to 360 degrees F. Line a jelly roll pan with several layers of paper towels. Drop in one square of dough which will sink to the bottom. Hold down lightly with tongs until dough puffs up. Alternatively, you can spoon hot oil over the top continously and the sopaipilla will keep puffing. When golden brown on one side, turn the sopaipilla over to brown the other side. Lift it out and place on paper towels. Blot the top. Continue with remaining rectangles. When finished, turn off the oil while you roll remaining half of dough. Turn the oil back on as you are cutting out the rectangles. When finished frying, serve immediately plain or sprinkled with powdered sugar and a scoop of ice cream. Garnish with a strawberry or other fruits.