Next Tuesday will be a new year of posting for the Tuesdays with Dorie baking group, but for this last tuesday of 2010, a rewind is in order. That is, our baking group is allowed to post a completed recipe a second time. It took me only a short time to decide to make the Split Level Pudding, a total disaster when I made them back in October of 2009. The pudding was a liquid mess even after the prescribed four hours of chilling. Now that I look back, I think the culprit was old cornstarch or maybe the kitchen gremlins.
This time, the puddings were a success.I served them in delicate antique cups and saucers that my mother must have found in a flea market years ago, stuck them in the china cabinet and forgot about them. My sister and I found them while clearing out my mother's house after she passed away.
The puddings have a surprise layer of chocolate ganache nestled in the bottom of the cup. Adding crunch are pecans baked in a cardamom, allspice and clove sugar mixture lending an exotic touch to the puddings.
Split Level Puddings

For the Chocolate Layer
2 ounces bittersweet chocolate, finely chopped
1/3 cup heavy cream
For the Vanilla Layer

2-1/4 cups whole milk
6 tablespoons sugar
3 tablespoons cornstarch
1/4 teaspoon salt
3 large egg yolks
2 tablespoons unsalted butter, cut into 4 pieces, at room temperature
2-1/2 teaspoons pure vanilla extract
Spiced pecans for garnish-recipe follows
Have six ramekins or pudding cups, each holding 4-6 ounces, (1/2-3/4 cup), at hand.
To make the Chocolate Layer
Put the chocolate in a 1-or 2-cup glass measuring cup. Bring the heavy cream to a boil. Pour the cream over the chocolate and let it sit for 30 seconds, then gently stir to blend. Divide the chocolate ganache among the cups and set aside.
To Make the Vanilla Layer
Bring 2 cups of the milk and 3 tablespoons of the sugar to a boil in a medium heavy-bottomed saucepan.
While the milk is heating, put the cornstarch and salt into a food processor and whir to blend. Turn them out onto a piece of wax paper, put the remaining 3 tablespoons sugar and the egg yolks into the processor and blend for 1 minute. Scrape down the sides of the bowl, add the remaining 1/4 cup milk and pulse just to mix, then add the dry ingredients and pulse a few times to blend.
With the machine running, very slowly pour in the hot milk mixture. Process for a few seconds, then pour everything back into the saucepan. Whisk without stopping over medium heat-making sure to get into the edges of the pan-until the pudding thickens and a couple of bubbles burble up to the surface and pop (about 2 minutes). You don't want the pudding to boil, but you do want it to thicken, so lower the heat, if necessary.
Scrape the pudding back into the processor and pulse a couple of times. Add the butter and vanilla and pulse until everything is evenly blended.
Pour the pudding into the cups-depending on how warm the ganache in the bottom of the cups was, you might find that it runs up the sides of the cups and forms a lacy circle around it. It will be pretty, if it does; if not, the chocolate will be a surprise. Press a piece of plastic wrap against the surface of the puddings to create an airtight seal and prevent a skin from forming. Refrigerate at least 4 hours. Recipe from Baking From My Home to Yours by Dorie Greenspan.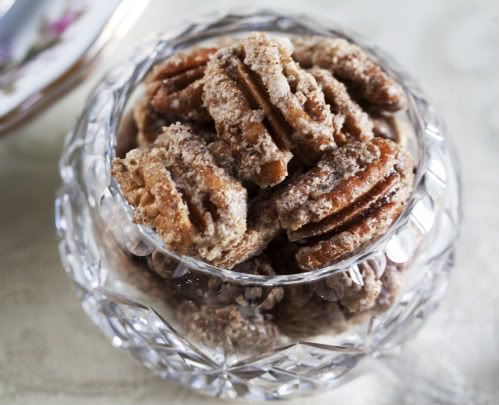 Spiced Pecans

1 egg white, lightly beaten
1 tablespoon water
3 cups whole pecans
1/4 teaspoon salt
1/2 cup sugar
1 teaspoon ground cardamom
1/2 teaspoon ground allspice
1/2 teaspoon ground cloves
Preheat oven to 300°F. Line a baking sheet with aluminum foil. In a medium bowl, beat egg white with water until frothy. Add pecans and mix until moistened.
In a small bowl, mix together salt, sugar and spices. Add to bowl and mix well. Spread in a single layer on baking sheet. Bake about 30 minutes, stirring every 8-10 minutes. Take care not to overcook and burn the nuts. Adapted from Allrecipes.


ALL CONTENT © CAFE LYNNYLU
Please do not use images or text without my permission.