Still celebrating the holidays? Tonight is a big one-grand parties with lots of delicious food and drink. I can't wait! In the spirit of the coming
New Year, Thirsty Thursday is posting on New Years Eve.For auld lang syne-a venerable cocktail-the nostalgic Old Fashioned.
The Old Fashioned is not for the
faint at heart. It is pure alcohol with a minuscule addition of sugar in the form of a sugar cube or simple syrup and a few dashes of bitters. Not a true cocktail as most believe, but actually a short highball, according to the late David Embury, author of "The Fine Art of Mixing Drinks". Embury takes a no nonsense approach to the Old Fashioned, one of the six basic cocktails he says that all hosts need to know how to mix in in order to be a successful home bartender. In the past two Thirsty Thursdays editions, I have showcased the Manhattan and the Jack Rose.
According to Embury, water should never be added to the drink and it's only place would be to dissolve the sugar, then quickly poured off. Simple syrup is the preferred sweetener, cutting the time down from the twenty minutes it takes to make an old fashioned with a sugar cube, to about two minutes.
Garnishes for the old fashioned are a single maraschino cherry and a twist of lemon peel. Excessive garnishes are unnecessary and would only bastardize the old fashioned. However, for a slightly sweeter drink, try adding a teaspoonful of juice from the maraschino cherries or a splash of Cointreau.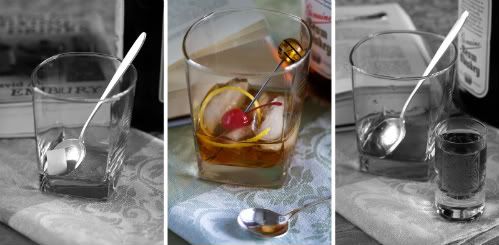 Old fashioned's and other classic cocktails have enjoyed a resurgence in popularity with the showing of the AMC series Mad Men. In the opening scene, Don Draper, founding partner for Sterling Cooper Draper Price, the fictional 1960's ad agency in the series, orders an old fashioned while seated at a bar. While Draper's preference is Canadian Club, an old fashioned can be made with other liquors
besides traditional bourbon or rye whiskey. Scotch, rum, brandy or even applejack can be used . If using rum, orange bitters are substituted or used in addition to the angostura bitters.
Old Fashioned Deluxe




1-2 teaspoons simple syrup

1-3 dashes of Angostura bitters
1 ounce whiskey, plus more to complete the drink
2 large cubes of cracked ice
Twist of lemon and a maraschino cherry
In each highball glass, pour in the simple syrup and add the desired amount of Angostura bitters. Stir with a spoon to mix. Add 1 ounce whiskey and stir again. Add cracked ice. Add additional whiskey to taste; stir again. Decorate with lemon peel and maraschino cherry on a cocktail spear.
ALL CONTENT © CAFE LYNNYLU
Please do not use images or text without my permission.