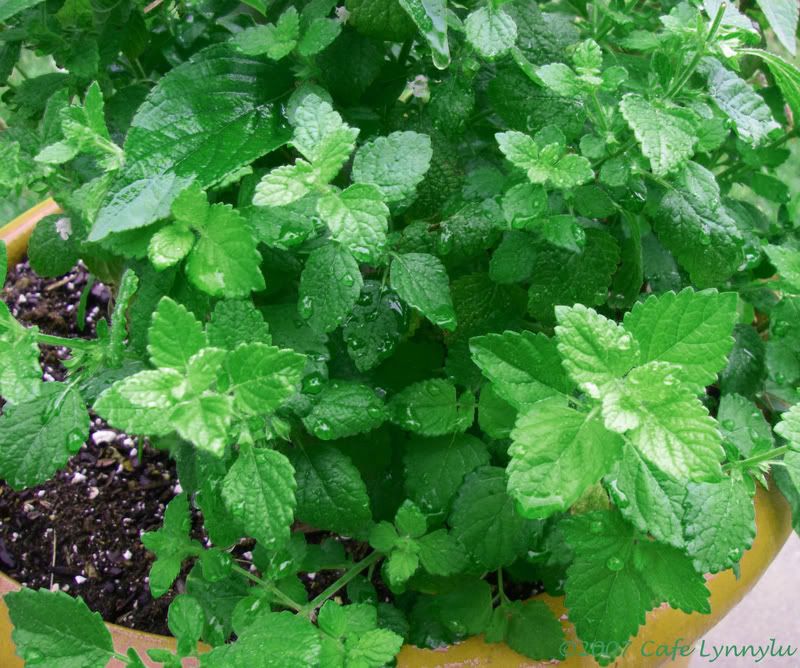 The strawberries and blackberries are plentiful this season despite the tropical storm which came through a few weeks ago so I am jumping ahead of my promised posting of Herbal Flavors Part Three to feature these berries. Blackberry Apple Crumble will come soon.In keeping with writing about herbs, this recipe features lemon balm, a perennial of the mint family and a vigorous plant which will produce an ample amount for all your culinary needs. Its tiny white blossoms attract bees and has a subtle lemon scent, so when using lemon balm in your desserts, syrups or honeys, be sure to use a generous amount. I wrote about lemon balm recently here where you can read more about lemon balm, its growing habits and uses.Herb and fruit flavored syrups make a delicious alternative to other syrups such as maple, for example, and are used more in countries in Europe than the United States as a base for fresh,invigorating coolers. In England, Ribena, in production for 70 years, is the most popular fruit syrup, originally made with blackcurrants, but other berries are now used-raspberries, blueberries,and pomegranates. Strawberry Lemon Balm Syrup is so easy to make and will keep well in the refrigerator for about three months which will give you all the time you need to fashion your refreshing summer coolers and create new desserts incorporating this wonderful syrup.Strawberry Lemon Balm Syrup2 pints strawberries12 ounces sugar, approximately10 sprigs fresh lemon balm, washed and dried in a lettuce spinnerWash and remove stems from strawberries, place in a bowl and crush with a potato masher.
Line a medium bowl with a double layer of cheesecloth, pour in the crushed berries and their juice, then gather up the corners and squeeze until the juice is extracted, taking care not to squeeze too hard as to push the strawberries through the cloth. Weigh the juice and add an equal amount of sugar and the lemon balm and combine in a non-aluminum saucepan. Bring to a boil and boil for 5 minutes. Remove from heat and skim any froth that is on top of the syrup. Let cool. Discard lemon balm. Store in a bottle in the refrigerator.Makes about 1-1 1/2 pints.Recipe from The Herbal Pantry by Emelie Tolley and Chris Mead
Strawberries and lemon balm aren't the only berry/herb combination-try blackberry/lemon verbena or raspberry/lemon thyme.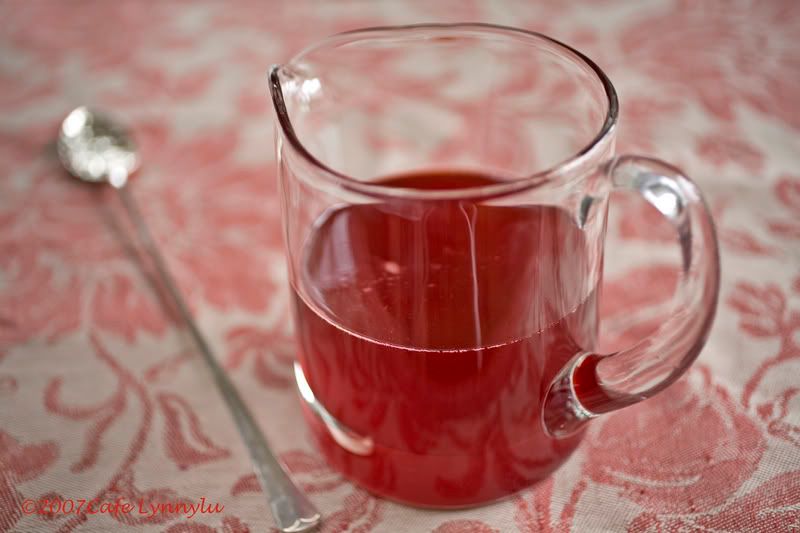 Sparkling water added to a tablespoon or two of the syrup makes a tasty spritzer for summer. Prosecco, an Italian sparkling wine, or Champagne can be used also.