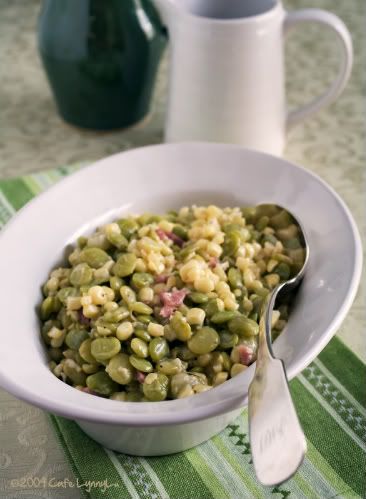 Fresh butter beans, plump juicy kernels of sweet corn, slivers of country ham and a very small amount of heavy cream make this classic version of succotash a perfect side dish for a summer meal. This recipe comes from Scott Peacock, co-owner and chef of WatershedRestaurant in Decatur, Georgia. Peacock's mentor was the late Edna Lewis, the granddaughter of an emancipated slave, and a cookbook author who returned elegant Southern cooking to its glory.
The word Succotash comes from the Narragansett word, msickquatash,
meaning boiled corn kernels. Corn seems to the one consistent ingredient in succotash. Lima beans are traditionally used, but any shell bean can be substituted. Tomatoes, green and red peppers are other ingredients that complement and add color to the succotash . The addition of bacon or country ham and gives rich smoked flavor to the dish. Heavy cream is optional, but in my opinion, brings the dish to perfection.
Succotash
Best with fresh produce, but frozen beans and corn work just as well out of season. Original recipe here. Makes 8 (1/2 cup) servings.
2 cups fresh, shelled butter or baby lima beans
3 large ears of corn, about 2 cups
2 tablespoons unsalted butter
Freshly ground black pepper
1/4 cup heavy cream
1/3 cup minced country ham
1. Place butter beans in large saucepan. Cover with water; add about 3/4 teaspoon of kosher salt. Bring to boiling. Skim surface until clear. Reduce heat to medium;cook partially covered, 30-40 minutes, until tender. Strain beans in a sieve. Set aside.
2. Shuck corn. Remove silks. Scott suggests you use a clean terry kitchen cloth gently rubbing corn to do this. Using a sharp knife, cut corn kernels from cobs.
3. In a large skillet, heat unsalted butter over medium-high heat until melted and foaming. Add corn. Lightly season with salt and freshly ground pepper, stirring to coat corn in butter. Cook 1 to 2 minutes. Add beans. Adjust seasonings. Cook 1 minute more, taking care not to overcook the corn and beans.
4. Add heavy cream and country ham. Cook just until heated through and slightly reduced. Season to taste.
Other versions of Succotash
Houndstoothgourmet End of Summer Succotash.
Savour-fare-Laurie Colwins Succotash.
Indianfoodrocks Mohegan Succotash.