I'm having house guests this coming weekend, so the cookies chosen by Pamela of Cookies with the Boys would be perfect for the picnic I'm planning. Since they freeze well, I could make them ahead of time.
I was multi-tasking this past Sunday; making cookies and pomegranate molasses from the juice the lovely folks at POMWonderful sent me just recently. I thought Pomegranate molasses too exotic to make at home, plus it isn't available in the high-end grocery stores that I sometimes frequent. After searching online for recipes and realizing how easy the molasses was to make at home, I was elated. Here in the United States, PomWonderful is the largest grower and processor of pomegranates, specifically the Wonderful variety. Pomegranate juice has so many health advantages that it should be considered a veritable fountain of youth. Did you know that grenadine syrup is also made from pomegranate juice? I didn't! I see some cocktails in my crystal ball!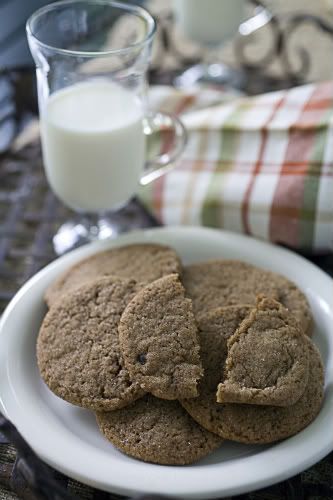 Back to the cookies-The pomegranate molasses had cooled and looked just like the jarred molasses, except the color was a deeper red. The finished cookies had a great spice flavor which wasn't overpowered by the inclusion of the pomegranate molasses and I could discern a subtle piquant taste from the fruit. Very pleasing.Since November is a busy month leading up to the holidays, the Tuesdays with Dorie baking group has some leeway in posting this month's picks. So check out the blogroll, it's not all cookies!