Avocados are my absolute favorite fruit and I have made it many different ways, but the avocados usually end up as guacamole with tortilla chips, one of the easiest ways to use avocados. So I was very excited when I got an e-mail from a representative from Has to Be Hass with three very different recipes featuring Hass avocados from Mexico. To kick off the beginning of Super Bowl week, Chef Kevin Rathbun of Rathbuns, the highly acclaimed restaurant in Atlanta, Georgia will host an open to the public free demo on Thursday, February 1, 2007 making these very same recipes. All three recipes can also be found on Has to Be Hass, but I have included them here.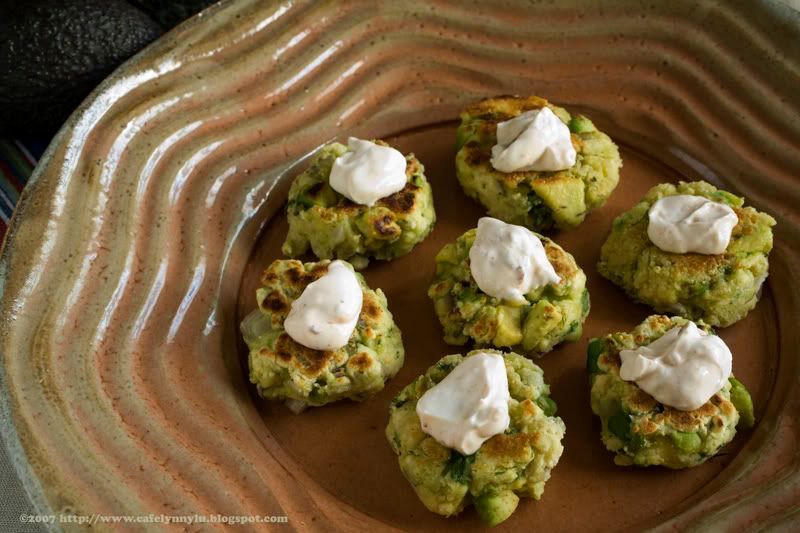 HASS AVOCADO-CILANTRO GRIDDLE CAKES WITH CHIPOTLE SOUR CREAMChef Kevin Rathbun, Rathbun's RestaurantIngredientsFor the griddle cakes:2 cups Hass Avocado from Mexico (small diced)3 Tbsp Cilantro (chopped)3 tsp Granulated Sugar1/3 cup Red Onion (finely minced)1 1/2 cup All purpose Flour1/2 cup Cornmeal1 Tbsp Baking Powder1 each Large Whole Egg2 Tbsp Salted Butter (melted)1 1/3 cups ButtermilkSalt and Black Pepper to tasteInstructionsIn a mixing bowl place avocado, cilantro, sugar, onion.In a separate bowl mix flour, cornmeal and baking powder.Mix avocado mixture with flour mixture, add egg, buttermilk, butter and season to taste with salt and black pepper. Chill mixture.For the chipotle sour cream:2 tbsp Chipotles en adobo (finely chopped)1 cup Sour Cream1 Tbsp Lime Juice (fresh)Salt & Pepper to tasteIn a small bowl mix chipotles, sour cream, lime juice and salt and pepper.Chill and reserve.Brush a small amount of olive oil on an electric griddle-top. Place a 2 oz scoop of griddle cake mixture, lightly brown and turn over. Continue to brown for approximately 1 minute on each side. Transfer to a serving platter and garnish with chipotle sour cream.
HASS AVOCADO-POACHED CHICKEN TRAMEZZINIChef Kevin Rathbun, Rathbun's RestaurantItalian Finger Sandwiches — Yields 40 small finger sandwichesIngredientsFor the chicken:1 each 2.5 # Whole Chicken12 each Garlic Cloves1/2 cup Scallions (rough chopped)3 Tbsp Kosher SaltCold Water to Cover2 Tbsp Extra Virgin Olive Oil3 tsp Ground Black PepperFor the avocado spread:2 cups Hass Avocado from Mexico (small diced)1/2 cup Mayonnaise1 Tbsp Lime Juice (fresh)1 Tbsp Oregano (chopped)2 Tbsp Scallions (chopped)Salt & Pepper to tasteInstructionsFor the chicken:In a small stock pot place chicken, garlic, scallions, and salt.Cover with cold water, bring to a rolling boil, remove from heat and cover air tight for 45 minutes.Transfer chicken to a small sheet tray, remove all visible skin and pull all meat from carcass. Pull chicken into small strings similar to pulled porkPlace in a bowl toss with olive oil and season with pepper, chill and reserveFor the avocado spread:In a small bowl mix avocado, mayonnaise, lime juice, oregano, scallionSeason with salt and pepper, chill and reserveFor the Tramezzini:1 loaf White bread (sliced)Building finger sandwiches:Place 20 slices of a cutting board, spread equal amounts of avocado mixture on bread, spread mixture within 1/4 inch of crust, top with shredded chicken a 1/4 inch from crust.Fold to slices of bread together and cut off crust of bread making small square sandwiches. Make two diagonal cuts on sandwich making 4 small triangles.Layer on party tray for super bowl munchies, best served at room temperature.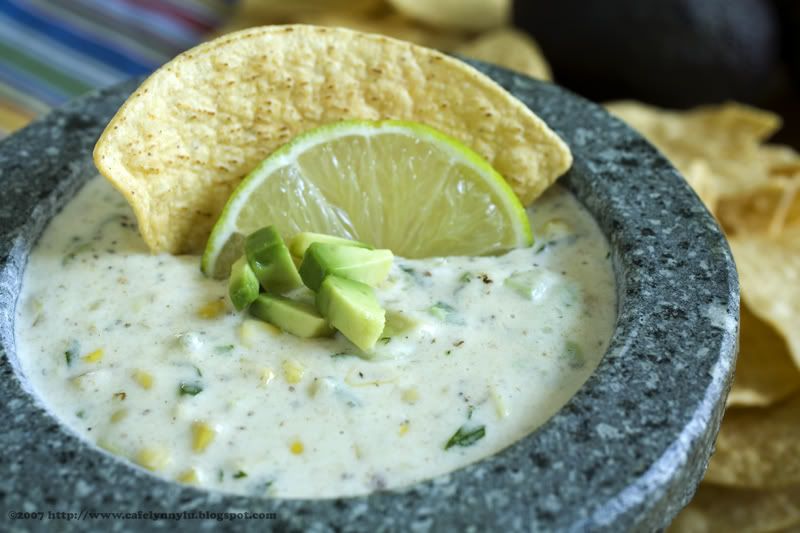 HASS AVOCADO CHARRED AND CREAMED CORN DIPChef Kevin Rathbun, Rathbun's RestaurantYields 6 cupsIngredientsFor the dip:2 cups Corn (fresh off the cob)2 each Jalapenos (minced)3 cups Heavy Whipping Cream1 Tbsp Garlic (minced)1 1/2 cups Monterey Jack Cheese (grated)1 1/2 cups Hass Avocado from Mexico (small diced)2 Tbsp Cilantro (chopped)Salt and Black Pepper to tasteInstructionsIn a medium hot iron skillet place corn and char for approximately 3 to 5 minutes.Add heavy cream, jalapenos, garlic and reduce for 3 minutes, while mixture is hot add cheese and avocado.Once cheese has melted, add cilantro and season with salt and pepper.Place in a glass bowl and serve hot with corn tortilla chips.Mixture heats well in microwave.Try these recipes for your Super Bowl party and if you live near Atlanta, visit Rathbun's to see Chef Rathbun make these and other recipes.