From the archives, I am submitting this blog post to The World Culinary ABC and the country Brazil hosted by Rosa Maria Tenore who blogs at Torte e Dintorni. On her site, you can view several delicious recipes from the country of Brazil. The World Culinary ABC was created by Aiuolik of Trattoria MuVarA. This Brazilian gin and tonic is a variation of the Caipirinha, the national cocktail of Brazil.
While vacationing this week on lovely Kiawah Island just south of Charleston, South Carolina, I was determined that I would be faithful to my Thirsty Thursday event. Although it was hard to tear myself away from the pristine beach, the miles and miles of bicycle paths to ride on, watching for gators to appear in the lagoons they call home, or exploring the coastal area photographing shrimp boats and tourist sights-there was always the cocktail hour to look forward to!
My favorite year round cocktail is a gin and tonic, but in the heat and humidity of our summer months is when I find it the most refreshing.I keep my bottle of gin in the refrigerator along with the tonic so it's always frosty cold. There are many excellent gins on the market (my fave is Tanqueray) and it is crucial to use a good one, but the choice of tonic water can make it or break it in my opinion. In England, Indian tonic water is used which has more quinine than tonic water made in this country. It was obvious to me that my gin and tonic never tasted as good back home as it did in England until I became aware of that fact. If you can't hop a plane to England to get authentic Indian tonic water, you can try some of the boutique tonic waters such as Q Tonic, Stirrings or Fever-Tree. Alternatively, I would choose Schweppes over Canada Dry.
The gin and tonic is a very British drink having been introduced by the army of the British East India company in India in the 18th-century. Tonic water which contains quinine prevented malaria, but was a very bitter drink. The Brits found that by adding gin whose botanical flavors complemented the bitterness of the quinine therefore making it an appealing drink.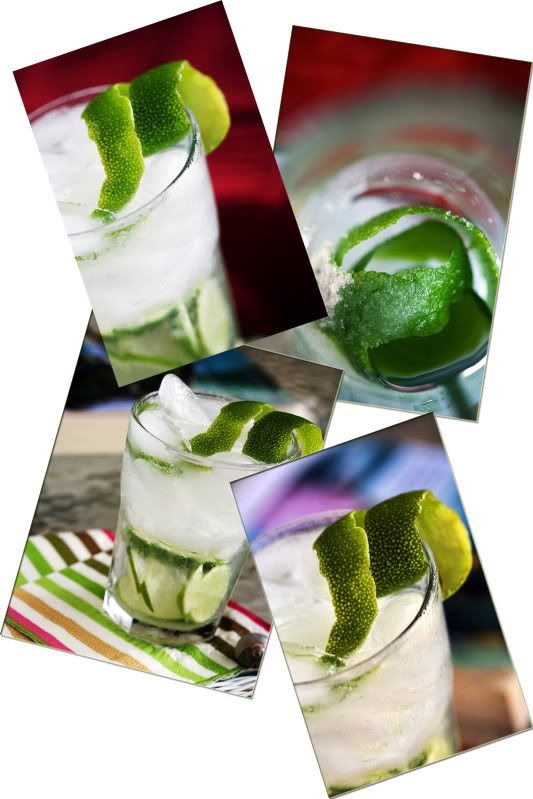 I call my gin and tonic a Brazilian gin and tonic which closely imitates the technique of preparing a Caipirinha in which fresh lime slices and juice along with a small amount of sugar are muddled together to bring out the citrus oils in the lime and to sweeten the drink. If adding sugar to your gin and tonic is a travesty, just leave it out and muddle the limes and juices together.
Brazilian Gin and Tonic
2 or 3 slices of lime
1 teaspoon sugar
Ice Cubes
2 ounces gin or Cachaca
5 ounces tonic water
In a highball glass, muddle together lime and sugar. Add ice cubes, then gin. Fill glass with tonic. Stir lightly. Garnish with lime slice or lime peel.