This Thirsty Thursday we are delving into fruit infused spirits using wild bullaces or Southern wild grapes to make a lovely color gin to use in your favorite gin libation.

Bullaces, also called wild damsons, grow wild in the woods around my sister's house. Although the vines have been growing for many years, last year's crop was outstanding, possibly due to the abundance of rain. So I was the happy recipient of several pounds of bullaces. Having lived in England, I was accustomed to seeing wild damsons, blackberries, sloes and a variety of other "hedgerow" fruit while picking blackberries for a crumble or cobbler or just walking the country paths. After deliberating for a few days, I decided to make an bullace infused gin to kick up my favorite gin and tonic. Patience was the key as the prepared fruit, sugar and gin had to sit in a dark place for at least three months, but became better if left to steep for a year. This was early September, 2009. A few weeks ago, I strained the fruit off and bottled the gin. The result was a lovely purplish pink spirit that reminded me of sloe gin, an infusion made with a small berry related to the plum family. Maybe you have had a sloe gin fizz made with sloe gin, lemon juice and club soda?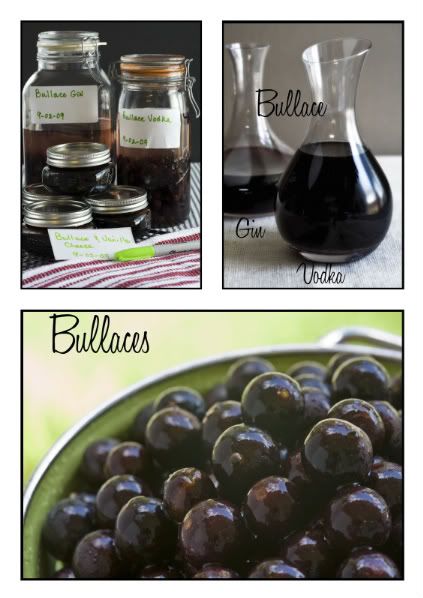 Wild bullaces ripen around late August or early September. The flesh is green and sweet with tiny seeds which are difficult to remove so makes the bullace better suited for jellies and infused spirits. Some are green, like the muscadine grape so popular for making wine and jellies in the South. If you can't find bullaces, plums or similar fruit can be used. Gin is used here, but vodka can substituted. Happy Infusing! Recipe adapted from TheCottageSmallholder.
Bullace Gin
1 pound bullaces, washed-bruised or spoiled fruit discarded
3/4 cup sugar
750ml gin, cheap gin is great
A sterilized 1 liter jar with clamp lid, such as the Le Parfait jar
Prick the fruit well with a fork. Folklore has it that only a silver fork be used or the fruit will spoil. Place the bullaces in the sterilized jar. Using a funnel, add the sugar and top with the gin. Shake daily until the sugar is dissolved. Place jar in a dark place for three months to a year. Taste occasionally and add more sugar is needed for a sweeter gin. Strain through a muslin/jelly bag and bottle in sterilized bottles after a year. Do not leave any longer than a year as the fruit may spoil. Use for your favorite gin drink.
Bullace Gin and Tonic
1-1/2 ounces gin
1 ounce bullace gin
2 teaspoons fresh lime juice
5 ounces tonic water
Lime for garnish
Combine the two gins, lime juice and tonic water. Pour over ice. Serve with lime garnish. Makes 1 drink.