I am happy to be hosting Weekend Herb Blogging #211 managed byHaalo of Cook Almost Anything and created by Kalyn of Kalyn's Kitchen. This pomegranate sangria is my contribution to the event.
Just recently, a case of 100% pomegranate from the kind folks at PomWonderful arrived on my doorstep. I have had a great time drinking it, making pomegranate molasses, pumpkin french toast with pomegranate maple syrup(here), a pomegranate syrup that I used to make this sangria, plus a meat marinade made with pomegranate molasses, honey and red wine.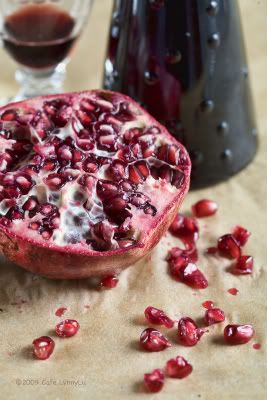 A refreshing punch for any occasion, Sangria consists of a red wine, typically a Rioja and an assortment of seasonal fruits mixed together and served over ice. Popular in Europe for hundreds of years, Sangria made its American debut in 1964 at the World's Fair in New York. Since then, it has evolved and sometimes includes brandy, rum, gin and other spirits. Sangria Blanco is made with white wine with compatible fruits such as the kiwi, peaches, or mangos. When making Sangria, use a quality red or white wine, one you would be happy to drink by itself. For best results, let the mixture of wine and other ingredients sit in the refrigerator several hours and preferably overnight for the flavors to meld. Add the fruit just before serving.
Using the pomegranate syrup in this sangria adds more depth and a tantalizing pomegranate flavor than when using the traditional simple syrup. Cointreau is the preferred liqueur, but the less expensive Triple Sec can be a substitute. Red grapes, pomegranate seeds, orange, lemon and lime slices are added just before serving.Pomegranate Sangria2-3 oranges, juiced1 lime, juiced1 lemon, juiced1/3 cup Cointreau, or Triple Sec1/4-1/3 cup pomegranate syrup (recipe follows)1-750 ml bottle zinfandel or your favorite red wineFor garnish, lemon, lime and orange slices; red grapes, pomegranate seeds to topIn a large pitcher, mix together citrus juices, Cointreau and the pomegranate syrup. Stir in the wine. Refrigerate several hours or overnight. Before serving, add citrus slices and grapes to the pitcher. Pour sangria in tall glasses over ice and garnish with pomegranate seeds and additional grapes.Pomegranate Syrup4 cups 100% Pomegranate juice from POM2-1/2 cups sugar1 teaspoon lemon juiceIn a large saucepan over medium heat, combine pomegranate juice, sugar and lemon. Stir until sugar has dissolved, stirring occasionally, until mixture is the consistency of syrup, about 20-25 minutes. Remove from heat and let cool. Transfer to a covered jar and refrigerate up to 1 month.