I apologize for the delay. The winners of the PizzaQue Stone Grill from Chefs Catalog and Foodbuzz are- Elaine Steve and Luvdaylilies. If you guys could send me your email address and mailing address, I will forward them to Foodbuzz. I'm sorry everyone couldn't be a winner, but maybe next time. Thanks for all your comments on Grilled Summer Vegetable Focaccia.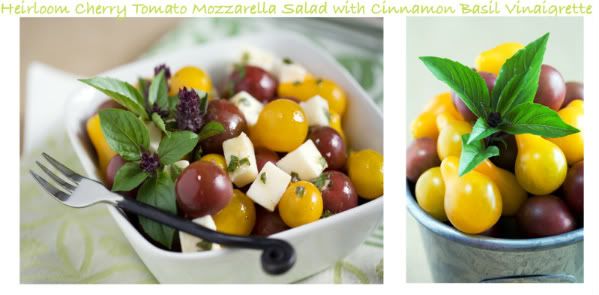 The lowcountry around Charleston, South Carolina is well known for its summer produce. I've heard for years that the juiciest, ripest tomatoes, the most luscious watermelons, cantaloupes and succulent sweet corn,whose plump kernels are bursting with translucent liquid can be found grown in the South Carolina counties of Beaufort, Colleton, Hampton, Jasper and Charleston. On a recent trip to Kiawah Island Resort, just outside the gates of the resort, we happened upon a local farmers market with an adjoining field planted with a variety of vegetables just waiting to be picked and sold in the market. A great little place with chickens having free rein, local artisan booths selling watercolors, sweetgrass baskets, jams, jellies fresh shrimp, fish and ice cold drinks. A one-stop shop!
Heirloom tomatoes are colorful, have interesting shapes and sizes and are prized for their phenomenal flavor. Among the heirloom tomatoes grown on this little farm, I spied two cherry tomato varieties that I have never seen. The black cherry tomato and the yellow pear tomato, though more expensive than the larger heirlooms, caught my eye. Together, they would make a colorful salad with basil and mozzarella cheese. For a different twist, I used cinnamon basil, more prolific in my herb garden than the customary sweet basil.
Heirloom Cherry Tomato Mozzarella Salad with Cinnamon Basil Vinaigrette

4 cups mixed Heirloom cherry tomatoes
8 ounces cubed fresh mozzarella or mozzarella balls
For the Dressing
1/2 cup cinnamon basil leaves, minced
1/2 teaspoon salt
1 tablespoon minced garlic
1 teaspoon Dijon mustard
1 teaspoon honey
1/4 cup red wine vinegar
2/3 cup extra-virgin olive oil
Cinnamon basil leaves for garnish

In a medium bowl, combine cherry tomatoes and mozzarella. On a board, mash together salt and garlic. Add to a bowl along with Dijon mustard, honey and red wine vinegar. Slowly add olive oil in stream, whisking until emulsified. Season with freshly ground pepper. Makes about 1-1/2 cups.
Toss small amount of dressing into cherry tomatoes and mozzarella-add more if necessary. Take care not to overdress salad. Garnish with fresh cinnamon basil leaves.

Kiawah Island on Dwellable